A Look Into the Grammy's
For all the music lovers and musicians out there, we are finally getting close to the most-awaited
ceremony to celebrate music. The Grammys, which are considered the music's biggest night, is
taking place on April 3rd, 2022. The 64th award ceremony was originally supposed to go on on
January 31st, 2022, but got pushed back because of COVID-19. At 8 PM ET, at the Las Vegas MGM
Garden Arena, the special night for music is supposed to happen. A Grammy is a very special award
to a music artist and can add a lot of influence to their career. But, unfortunately, some artists dislike
the ceremony and claim it to be unfair. The Grammys have gotten a serious wave of negative
comments due to last year's nominations and winners. The performances were amazing, but the
awards were deeply frustrating. People are honestly hoping this year doesn't disappoint.
This year's lineup is very promising. We have famous and talented artists to perform at the
ceremony. This year we will count on the performances of BTS, Billie Eilish, Olivia Rodrigo, Lil Nas X,
Jack Harlow, H.E.R, Jon Baptiste, Foo Fighters, and some more! According to the Academy, BTS'
performance will be one of the biggest stages ever performed at the ceremony. Following, here are
the most awaited categories: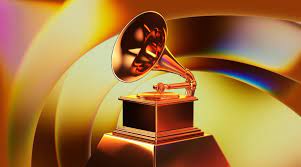 · Record Of the Year, which we have nominations like Peaches, from Justin Bieber, Kiss Me
More, from Doja Cat and SZA, Happier Than Ever, from Billie Eilish, Montero, from Lil Nas X,
driver's license, from Oliva Rodrigo, Leave The Door Open, from Silk Sonic.
· Album Of The Year, we have We are, from Jon Baptiste, Justice, from Justin Bieber,
Planet Her, from Doja Cat, Happier than ever, from Billie Eilish, Back Of My Mind, by H.E.R.,
Montero, from Lil Nas X, Sour, from Olivia Rodrigo, Evermore, from Taylor Swift, Donda, from
Kanye West.
· Song Of The Year, we have Bad Habits, A Beautiful Noise, driver's license, Fight For You,
Happier Than Ever, Kiss Me More, Leave The Door Open, Montero (Call Me By Your Name),
Peaches, and Right On time.
· Best New Artist, we have Arooj Aftab, Jimmie Allen, Baby Keem, FINNEAS, Glass
Animals, Japanese Breakfast, The Kid LAROI, Arlo Parks, Olivia Rodrigo, and Saweetie.
Best Pop Duo/Group Performance, we have I Get A Kick Out Of You, from Tony Bennet
and Lady Gaga, Lonely, from Justin Bieber and Benny Blanco, Butter, from BTS, Higher Power,
from Coldplay, Kiss Me More, from Doja Cat and SZA.
"There's a really good lineup this year", said Adrian Aswani (11), "I am excited to see Doja Cat and
Tyler, The Creator win an award this year. I am also looking forward to seeing the performances,
especially from Jack Harlow, H.E.R., Lil Nas X, and BTS". When I asked him about rather he likes or
dislikes the Academy, he answered, "No, I don't think they are fair all the time. But, sometimes some
artists that win, actually do deserve it". "I am very excited to see Billie Eilish, Doja Cat, FINNEAS, and
Tyler, The Creator", said Kevellyn Avelar (12), "they choose a perfect lineup since every artist is
talented and deserves the public attention", she continued, "I think this ceremony is rather necessary
for music. We get to celebrate, and recognize artists for their work during the last year's music
releases", she concluded.
For music lovers, excitement is what represents their state right now, with the music industry waiting
for the awaited day to recognize music. Unfortunately, only voting members can buy tickets to watch
the ceremony in person, and they go from $250 or more depending on where you would like to sit.
But, you are welcome to watch the ceremony on CBS Live Channel, or Live and on-demand at
Paramount+. Let's wait for this amazing ceremony, and hope our favorite artists and picks win!