On June 22, 2022, the 21-year-old rapper, singer, and songwriter Lil Tjay (Tione Jayden), from the Bronx, New York, was shot several times at the mall in Edgewater, New Jersey, in an attempted robbery. Another person that was hit was his friend Antoine Boyd, age 22, also from the Bronx; he was sent to the hospital with non-life-threatening injuries and was stable. Mohamad Konate, 27, was the lead suspect in the investigation before officially announcing him the perpetrator. He had three counts of armed robbery, was charged with three counts of attempted murder, and is a convicted felon in possession of a firearm.
The story is that Konate approached the vehicle Lil Tjay and his two friends: Antoine Boyd and Jeffrey Valdez, 24, were inside. All three were held at gunpoint when he ordered that they surrender their money and jewelry. However, Konate was not the only one in possession of a firearm. It is unclear which friend of the rapper had the gun, but shots were exchanged between both parties. It is uncertain who shot first, but Konate was injured as well; thankfully, he survived. However, Lil Tjay was in critical condition and fell into a coma. Not long after, he was on the road to recovery, and he let the world know by releasing his new single, "Beat the Odds."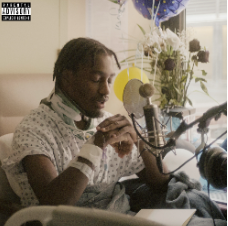 Featured Picture by "Stereogum"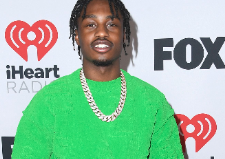 Fe3atured Image by "People.com"
Artist Lil Tjay is a widely known rapper with 7.5 million Instagram followers, 5.3 million TikTok followers, and 1 million Twitter followers. Frequently surrounded by violence and crime, growing up in the South Bronx was very challenging for Tjay. He was involved in fights and completed measly robberies as an early teen, leading him to get locked up for over a year. However, once he was released in 2017, as many underground artists do, he started releasing music on the popular music app: Soundcloud. Shortly after, he accumulated millions of views on most of the songs he dropped.
He first gained a more authentic audience when one of his singles in 2019: "Pop Out," with another famous artist in lyrical rap, "Polo G (Taurus Bartlett)," reached the 11th spot on the "Billboard Hot 100: R&B/Hip-Hop" charts. His new song, "Beat the Odds," is related to the incident that occurred and how he was shot several times but can come back and make a full recovery with no damage done to his voice. In the song, Lil Tjay says, "I took seven shots, no shame," implying that the people behind the robbery and the person who attempted to kill him failed, and for that, he is grateful. He also says "I know they mad wishin' they had finished me entirely."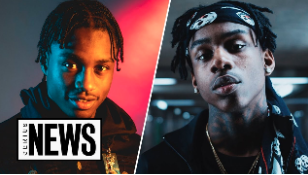 Featured Picture by "YouTube"
The song inspires those who have been through similar situations and motivates those living similar lifestyles as Lil Tjay to get out of the streets and find another way to make it out of the cycle of violence and poverty. During an interview with Valeria Virgen (12th grade), when asked what her thoughts were on the song, she replied, "I actually like the song; it's a big motivation to keep going and to always be grateful for what you have. People always want to see you down, but that's your reason to keep going." In another interview with Imani Samuels (9th grade), when asked about her thoughts on the song, she replied, "I love it, and it really shows how he was able to get back up and stay alive even though he was shot several times."
Lil Tjay's been through a lot throughout his life while surrounded by bad influences during his childhood, trying to make it out of his hometown, dealing with a constant battle to make it to the top in the rap game, and almost losing his life in a robbery. Nevertheless, he recovered, made the most out of his tragedy, and continues to live his life. He is a role model for not only the children from his hometown but also those similar in age who think that they can't find success in life, but they can see that he made it and was able to beat his odds.