Rap Albums of November 2018
The month of November has been packed full of albums in multiple genres. One major genre was rap where there were over ten albums released from a variety of artists. We will be looking at 3 of these albums: Noir by Smino, Oxnard by Anderson.Paak, and Some Rap Songs by Earl Sweatshirt. All three of these b-list artists have been in the music industry long enough to produce at least three albums, so there is a baseline to compare to. These artists are not the top of the line, mainstream artists like Drake and Kendrick Lamar, but they have fairly big followings that stick with the artist and are constantly growing. Although all these albums are part of the same genre, they are very different regarding style, production value, and purpose. The first album, Noir, is a very upbeat and diverse album that showcases Smino's ability to change his voice and create original flows from simple beats. Oxnard gives us a more linear set of songs that portray the life experiences and growth of a child, Anderson.Paak. Lastly, the album, Some Rap Songs, provides a harder, more intense tone that showcases Earl Sweatshirt's lyrical ingenuity.
Noir. Smino combines jazz, soul music, and futuristic rap in his new album. He was already known for his unique sounding artistry, but this 18 song collection brings that to a new level according to critics. L.M.F., MERLOT, and MF GROOVE are the three most played songs, and all have completely different vibes. These are essential tracks as each one provides a different setting and therefore a different feeling. The sounds Smino creates in each song is very original to him, so once you get hooked to his work, you will probably play it on repeat for a while. According to reviews from ConsequenceofSound, you will eventually get accustomed to his sound and no longer be hooked by it. One con of this album is the lack of artist-to-listener connection. Smino does not create that feeling of "I get this on a personal level." Also, the lack of story or plot as you get further in the album is the main reason it is difficult to make it a "classic" if you will. Overall, Noir is a beautiful exhibit of several genres and eye-catching music.
Oxnard. Anderson.Paak is a harder rapper with a long and renowned discography dating back to 2014. His following has been exponentially growing as he collaborates with top artists such as Kendrick Lamar and J. Cole. Oxnard was rated best rap album of November by HipHopDX. They state that this album is the pedestal that pushes Paak into the spotlight as a do-it-all renaissance artist. His new found ambition is greatly prevalent in the songs 6 Summers, Brother's Keeper, and several other ones. He uses much more beat switches and two part sequences in this album which make it more compelling and sonically diverse than previous albums such as Malibu. Paak is known for his lyrics, and this album is no exception, however, one con of Oxnard is the prevalence of "skits" throughout the album. ConsequenceofSound says it was used too excessively to the point of annoying to the listener. Lastly, the ending of the album is very mediocre and insufficient as it uses a faux Jamaican dialect. All in all, this album is worth a listen to any fan and rap enthusiast.
Some Rap Songs. Earl Sweatshirt has been known as a one-time teen prodigy to many music enthusiasts. He always kept a cult following, but recently he has reemerged as an icon. His purpose in Some Rap Songs is to articulate the pain and suffering he has been through. The album has a dark, chaotic vibe, which is good, considering this is what he is known and praised for. Similar to the artist, Tyler the Creator, he uses an older, slower flow of rap, but this album might have taken this to an unwanted extreme. A few songs such as Eclipse and Loose sound too raw and patchy. ConsequenceofSound says this caused them to fall short of their potential and draw away from the message behind each song. All in all, Some Rap Songs displays a personal, reflective attitude from Earl Sweatshirt that is desired from his fans, so it is a must listen.
November has been a great month for rap artists like Smino, Anderson.Paak, and Earl Sweatshirt as they showcased their updated discographies. All 3 of these albums are worth a listen for anyone who is interested or wants to get started in listening to the rap industry. They provide a variety of sounds and styles, so you are bound to enjoy and pursue listening to at least one of them.
About the Writer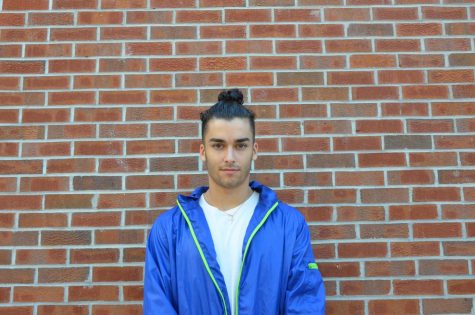 Chico Dermendzhiev, Staff Writer
Dinko Dermendzhiev was born September 13, 2000. He likes to go by Chico. He is originally from Bulgaria and moved to Georgia in 2004. Chico enjoys working...