The Life and Memory of Karl Lagerfeld
Evolution has happened everywhere, yet it's rare to find something where someone can so easily see the history of what it was in the past versus what it is today. The fashion industry has given us a chance to see what we looked like ten years ago compared to what we look like today. It was because of artistic and outrageously creative people that the evolution of fashion has brought us to where we are now. It was because of people like Karl Lagerfeld who wasn't afraid to dare and defy standards and approach clothes with a fresh and focused attitude that fashion has become a method of self-expression.
Anyone who is even somewhat familiar with haute couture must know who Karl Lagerfeld was. He was an icon and not just because he rocked a slicked-back ponytail with his bright white hair and wore massive black sunglasses everywhere. Lagerfeld's innovative and audacious style assisted in launching the fashion industry into the 21st century. His achievements stretch even farther back in the mid 1950s. In 1957, he became the art director for fashion luminary, Jean Patou. In 1962, Lagerfeld was one of the first freelancers in fashion working all across Europe. Flash forward to 1975 when he became the first designer in history to introduce a perfume, CHLOE. He didn't even have his label. Then in 1983 came his most well-known accomplishment. Lagerfeld was appointed the director for the House of Chanel. A year later he went on to create his label while maintaining a steady stream of work with Chanel and Fendi. He even went on to become a well-established photographer, photographing many of his campaigns and publishing a book of his work. His success has reached far more than anyone could imagine. Any designer working in haute couture was influenced one way or another by Karl Lagerfeld. He left quite the impression, not only in his work but the people who admired him for his unique style.
Karl Lagerfeld was known for setting up lavishly themed runway shows incorporating unconventional ideas into his clothing and events. Whether it's transforming the Grand Palais in Paris to be a winter wonderland in Switzerland or a high fashion grocery store, he never fails to surprise. He reinvented trends by using loose cardigans and layered blouses with ruffled collars and sleeves in his Chloe show back in 1974. In 2015, he brought fur to the runway in his presentation for Fendi and created a whopping 140 pieces for his first kid's collection, making couture something for everyone.
Throughout the many years, Karl Lagerfeld has been in fashion, he hasn't failed to captivate the world with his remarkable designs and innovative spirit when creating clothes for people everywhere. His legacy will continue to live on, and people will always look to Lagerfeld for inspiration. Lagerfeld helped shape the fashion industry to become a place where inventive and unfamiliar clothing was okay, and that experimenting was always welcomed. Whether it's his designs, photographs, or his witty and authentic personal style, Karl Lagerfeld will still be with us.
About the Writer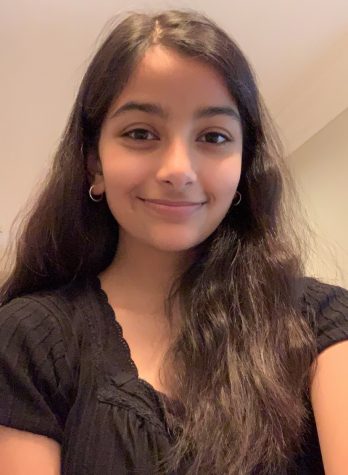 Divya Sharma, Life and Style Editor
Divya Sharma is currently a Senior at Wheeler High School. She enjoys baking, watching YouTube videos, and drawing. She'd love to study more about journalism,...