Covid Friendly Halloween Ideas
The thought of celebrating Halloween during a pandemic can be a little scary. But it can still be incredibly fun. Going trick-or-treating, throwing parties, and visiting haunted houses are examples of Halloween activities that may be risky amid COVID-19 or not allowed in your location. However, you and your family can still enjoy these long-held traditions while practicing the necessary precautions and staying safe. Here are some ideas.
1.Virtual Costume parties
Virtual Costume parties are a great way to share your costumes while being COVID- safe! Platforms like Zoom, Microsoft Teams, Houseparty, Google Meet, or Facebook Rooms are great options for groups.
2. Spooky movie night/ drive-in movies
There are so many classic Halloween movies. Why not watch those instead of trick-or-treating? To make the night even more fun, they're also going to dress up in costumes and make special Halloween-themed snacks. There's certainly no shortage of Halloween movies. From family-friendly classics (Hocus Pocus, Casper) to horror flicks (Halloween, Silence of the Lambs), there's something in the Halloween category for everyone.
3. Decorating pumpkins
Carving and decorating pumpkins is a long-held Halloween tradition that doesn't have to change during COVID-19. Some people are even putting a COVID-themed spin on pumpkin carving this year and putting face masks on their jack-o'-lanterns. Buy pumpkins at your local pumpkin patch or grocery store and schedule a night during which you can carve or decorate them with your family. Or, work with your friends, neighbors, and community members to set up long tables outdoors and decorate or carve your pumpkins while practicing social distancing. Then, display your pumpkins proudly outside your home to show your community that COVID-19 won't be stopping you from having a fun Halloween this year.
4. Neighborhood decorating contest / Door decorating
Decorating the outside of your home is a great, fun way to get your community into the spirit of Halloween. It's also much safer since people can drive by to admire your decorations without having to get out of their vehicles. You may also consider chatting with your neighbors to get everyone on the same page when decorating your doors, and have a contest! Other people in your community can take a few moments to drive through your neighborhood and enjoy the spooky sights.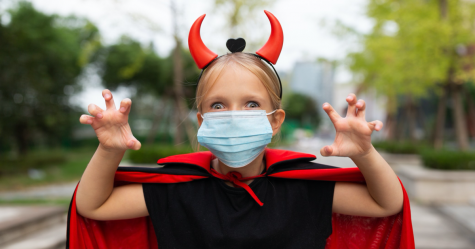 5. Halloween Door drop (safely give out treats)
If your neighborhood is still hosting a socially distanced trick-or-treating event, consider making some of these treat bags ahead of time from this website so that you can leave them at your peers' doors! This allows for plenty of distance between you and your town's trick-or-treaters.
6.Trunk & treat
If you're new to the idea of a trunk or treat, it's when several people get together and host a trick-or-treating event from the trunk of their car. Each participant decorates their car, where they hang out and hand out candy, giving kids a safe and fun way to collect treats. You can do this with your neighborhood, or just a couple of close friends! (all though the fewer people, the better.)
7. Neighborhood Decorating contest/Scavenger Hunt Haunted house drive-thru
If you're on a social media group with your neighbors, ask your neighbors to decorate for fall and create a Halloween scavenger hunt list a few days before the holiday. Families can walk through the neighborhood to spot different decorations, and parents can give their kids a treat for each item they spot!
8. Bake your Favorite Halloween treats
Who says Halloween is all about the candy? It's the perfect time to get creative with your baking. Decorate some spooky cookies or build a (haunted) gingerbread house. You'll have both an activity and a yummy dessert.
9. Haunted Escape Rooms
Going to and Haunted Escape room can also be a fun way to stay safe and have fun this Halloween! There are plenty of great escape rooms in Atlanta this year. Consider checking these out and maybe visiting one this Halloween!
10. Create a Candy chute
A candy chute is made from a decorated cardboard tube or a piece of PVC pipe, and it's a great way to stay COVID-safe this Halloween. One West Virginia dad named Andrew Beattie recently went viral after sharing pictures of his candy chute creation. He explains that the experience can be "completely touchless" if you pour candy directly from the factory sealed variety bags and instruct trick-or-treaters to catch it in their buckets, rather than in their hands.