Support Small Businesses
COVID-19 has affected plenty of people, especially local businesses. Some businesses have had to close due to being slow. These are people whose business is what contributes to their living. This pandemic has setback some, and they need all the support they can get. Many small businesses took out a loan from the U.S. Small Business Administration specified to help a business keep their workforce employed during the pandemic, of which 88% of the U.S. has had to extend their loan. The numbers of local employment providers that are running out of funds are growing. Many people have been laid off, and many businesses have had to merge to stay stable. The Administration is doing everything it can to help these small businesses, but there are still loan recipients, laid-off employees, and cut wages.
You can support small businesses by getting their name out there, volunteer for certain companies, amplify messages on social media for certain businesses, buy gift cards to purchase from the business in the future, and encourage others to purchase from small businesses. You can also order take-out or delivery more often since most restaurants have shifted to the no dine-in policy due to Covid guidelines. Marketing and advertising can make a positive impact on your business. It's about knowing the right people and getting your name out there. We can also contribute by doing that. You can share these businesses on social media by promotion. Telling your family and friends about it. Anything is beneficial. In our communities, there are plenty of small businesses. If we all support each other, the community can grow even bigger, especially the businesses. Support your peers and see what they have to offer. Support comes in many different forms, and there is always a way to help. Just do your part.
During quarantine, I have noticed that many of my peers have started their businesses. From hair, clothes, nails, etc. I try to do whatever I can to support. It takes nothing. You can share their posts on social media of their work, and it will contribute. Many of my friends have all said their businesses have been challenging to start and that they appreciate any amount of support they can get. Especially with COVID-19, it can be hard to get supplies and to find a vendor.
Jaylan Robinson (12) started a business selling t-shirts. He said COVID had given him the motivation to start. In quarantine, he didn't have a lot to do; he said he was always bored. As a result, he brainstormed and started something that will keep him occupied and busy. Although, he stated one of his challenges was finding a vendor. Due to covid, production has been slow, and it has caused vendors to be limited. With a support system and a positive mindset, he overcame the challenges and started a successful business. Friends sharing his business on social media has helped him get his name out there and has helped sales. You can support him @1029clothing on Instagram.
Starting your own business can be a challenge. It's an investment and a risk. You have to believe in yourself and take a leap of faith to start. There's always going to be obstacles to overcome when starting a business. You have to be confident and overcome. It's the greatest decision to invest in yourself and become an entrepreneur. Starting young is the best way because it's plenty of room to go to. Find what you have a passion for and invest in it. With everything going on in the world right now, this will be a great time. Especially if you are still quarantining, you have time and should not waste it. If you plan on attending college, this is a great source of self income to put aside to help pay for tuition.
About the Writer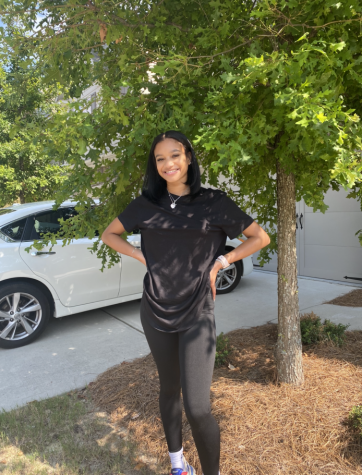 Morgan McIntosh, Staff Writer
Morgan McIntosh is a senior this year and she's excited to learn more about journalism (& graduate).