Coming 2 America: More Than a Sequel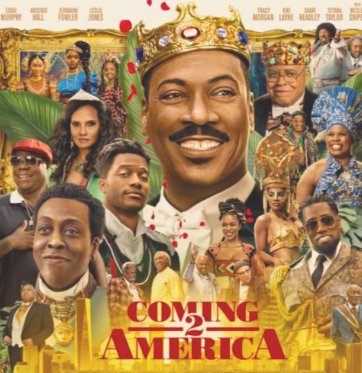 Good Morning, my neighbors! The sequel of coming to America continues the story of Prince Akeem, who blew off his arranged marriage to seek true love. Set in the lavish and royal African country of Zamunda, newly-crowned King Akeem (Eddie Murphy) and his trusted confidante Semmi (Arsenio Hall) embark on an all-new, hilarious adventure. They travel from their prominent African nation to the rundown neighborhoods of Queens, New York – where it all began.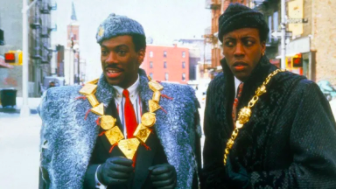 Coming 2 America came out on March 5, 2021, in theaters and on Prime. The sequel was originally going to air on December 18, 2020, but the pandemic changed plans. For this sequel, watching the first movie isn't entirely necessary; however, the film does refer back to the first movie. The first movie premiered in 1988, 33 years before the sequel. Why did it take them this long to give us this sequel? Murphy says "Coming to America" is the only movie he did where the film had a cult following in an interview. Lines from the movie became catchphrases. People dressed up as characters from the movie or even dressed up as employees of the well-known establishment McDowell's, which is nothing like McDonald's. Murphy later touches on the topic of an article that eluded to the conclusion that Murphy was no longer funny and that his career was over. Murphy disagreed strongly with these claims and felt he needed to do something to let people know that he was "still funny." He then explained how he planned to produce the Coming 2 America movie and then return to stand-up comedy.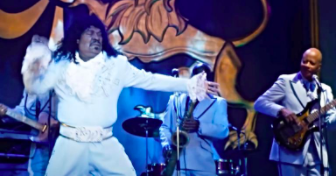 I had the opportunity to interview students who watched the original and the sequel or only watched the original and plan on watching the sequel. Most students who saw both the original and the sequel liked the original much better than the sequel. One student said they liked the storyline better in the original. They found Prince Akeem going to America searching for his true love much more enjoyable than the sequel's storyline of King Akeem returning to America to meet his long-lost son and his heir to the throne of Zamunda (Cameron Smith, 10). Students who only watched the original movie can't imagine the sequel being better than the original Coming to America; "To me, it was just a really funny movie," says Isaac Novosel (11). "The significance of Coming To America is that Prince Akeem was willing to give up all his riches to be happy with the woman he loved," states Neelah Hillery (11). Another student touches on how she enjoyed seeing both the sequel and the original because the sequel had most of its original cast. She liked seeing Black people portrayed as royalty and in a positive light rather than a negative connotation (Almetah Southall, 11).
When this particular student touched on this topic, I decided to ask other students their opinion on this as well, and the majority of them agreed. Black people in America have been the "strange fruit" hanging from trees to the upsetting viral videos of countless unarmed citizens. While it is essential to know this truth, this is not the Black experience in totality. Black people were African kings and queens, invented products, and made art that made America what it is today. Sometimes Black and African American kids don't get to that side of history. That's why it is so important to see themselves as heroes, for example, Black Panther and Princes and Princesses like Disney's Princess Tiana and Prince Naveen.
This sequel is more than just a comedy; it educates, and if you get a chance to watch the sequel, I highly recommend you do!