New Mask Mandates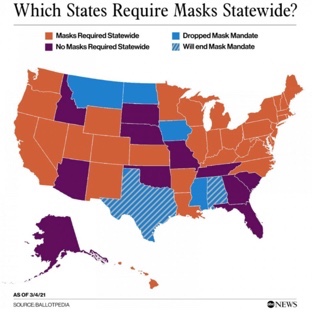 States Texas, Mississippi, Iowa, Montana, and North Dakota have already dropped their states' mask mandates or are in the process of dropping them. Alabama and Utah plan to do the same in April. These states are part of a not-so-new trend of multiple states bucking national and international public health recommendations. They join eleven other states- Alaska, Arizona, Florida, Georgia, Idaho, Missouri, Nebraska, Oklahoma, South Carolina, South Dakota, and Tennessee – who never implemented state-wide mask mandates.
The states officials who are now renouncing face coverings say that the responsibility is now on the individuals' terms and that they should remain "vigilant" and "should still choose to wear face coverings". Alabama's Governor, Kay Ivey, announced Thursday that beginning on April 9, wearing masks will be "a matter of personal responsibility and not a government mandate."
In Georgia, people are "strongly encouraged to wear face coverings as practicable" outside the home. Gov. Brian Kemp has revised his coronavirus health order starting August 15 to allow local governments to impose limited mask mandates, like Atlanta and many other jurisdictions have sought to do, reversing a month-old ban on such local orders.
For many, however, people will opt out of wearing face masks or coverings. But health officials say it's too soon. Even as President Joe Biden's administration has
ramped up vaccinations, Dr. Peter Chin-Hong, an infectious-disease specialist at the University of California at San
Francisco said coronavirus variants were a big concern.
"The vaccine rollout is progressing everywhere, but it probably won't be able to protect the population fast enough," he said. The expert said there were encouraging signs but that the US was still in a race to vaccinate before virus variants spread more widely. So, even as people receive- and prepare- for the vaccine, it is still wise to continue to wear your mask and to socially distance as best as possible. The virus is still here and will continue to be if we don't all follow guidelines.