Hurricane Ida: Following in Katrina's Path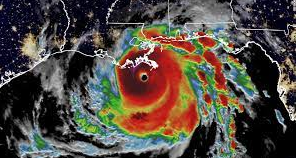 Arabella Brown, Co-Editor In Chief, Life & Style Editor, Photographer
September 22, 2021
Although hurricanes are not a new occurrence, it seems in the past few years they have become increasingly common and increasingly destructive. The most recent addition to the long list of destructive hurricanes is Hurricane Ida. Ida was not the first hurricane of the Atlantic season this year, which typically runs from June 1st to November 30th, but it has been the most severe in 2021.
Ida formed on August 26th, 2021, in the Caribbean Sea as a Category 2 hurricane. It hammered Cuba on August 26th with intense force. As Ida continued toward New Orleans, LA, it was expected to make landfall as a Category 3 hurricane. However, at 11:55 a.m. on Sunday, August 29th, Ida made landfall as a destructive Category 4 hurricane near Port Fourchon. Along with heavy rain and flooding, Ida brought catastrophic winds and tornado warnings to Louisiana and neighboring states. Ida made landfall with 150 mph winds, just 7 miles per hour short of a Category 5 hurricane. (Picture of Hurricane Ida. Photo Credit: CNN )
According to AIR Worldwide, the estimated cost of damages from Hurricane Ida will be $17 billion to $25 billion. It appears that more damage has come from Ida's winds than the flooding; Insurance companies are more likely to cover wind damages than flood damages. Ida has killed at least 50 people along the East Coast. Thousands are still without power, and it is expected to take weeks to get power back to everyone in New Orleans. Though Ida landed in New Orleans, its effects were so far-reaching that it caused around 40 deaths in Northern states as far north as New Jersey, Pennsylvania, and Maryland. In addition, states in the southeast such as Alabama, Georgia, and Florida, experienced heavy rains and some flooding. Another large problem New Orleans faced with the arrival of Ida was in its hospitals. Hospitals in New Orleans are currently filled with Covid-19 patients, and ICUs across the state are constantly full of new sick patients. Without anywhere to go, these patients and their doctors had to remain in place during the hurricane.
One feature of Ida is incredibly eerie: Ida struck New Orleans on the 16th anniversary of Hurricane Katrina, precisely to the day. For the past 16 years, New Orleans has been recovering from the long-term economic and population effects of Katrina. Katrina actually struck Louisiana as a Category 3 hurricane, a category less than Ida. However, Katrina caused much more destruction as its winds extended 98 miles from the center, and Ida's only reached 37 miles from the center. Deanna Doyle (12) says, "My dad knows families that had to run from Katrina." Another student, Isabella Nazario (12), once had part of her roof ripped off by a hurricane. Although Katrina hit New Orleans, people worldwide have connections to its effects, and many other storms including Ida, have followed that same pattern. (Photo of comparison between Katrina and Ida. Photo Credit: cw39.com).
Although hurricanes are by nature destructive, the power of Ida, along with unusual weather occurrences, is another piece of proof that confirms what many of us already know: climate change is making natural disasters worse than they should be. In an article for The Washington Post, Sarah Kaplan wrote, "From its birth, Hurricane Ida was destined to become a monster." According to the National Oceanic and Atmospheric Administration, parts of the Gulf of Mexico are 3 to 5 degrees hotter than the average ocean temperatures at the end of the 20th century. Greenhouse gas emissions, which lead to global warming, are the primary cause of this. Brian Tang, an atmospheric scientist at The University of Albany, said, "All this warm water is to hurricanes what gasoline is to a car engine." As climate change surges on, these natural disasters will only get increasingly more destructive and deadly. If we do not change how we affect our environment soon, we will have to deal with the impending consequential storms that could make Hurricane Ida seem like a simple thunderstorm.