Rihanna's 50 Shade Ticket to the Billionaire's Club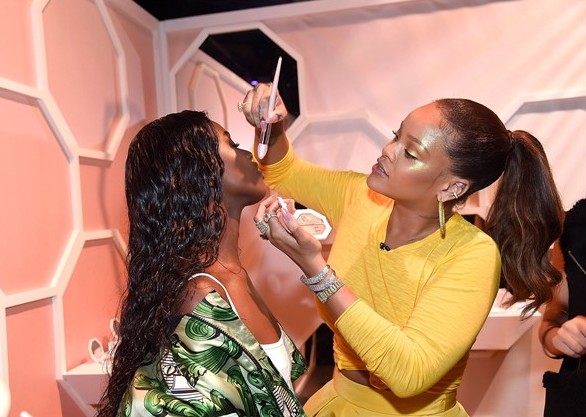 From the top charts of 2015, Rihanna told the world she'd be "calling the shots, shots, shots" and sang that… certain people… better have her money. And it turns out, they did. As of last month, Robyn Fenty, known by millions as "Rihanna," is officially a billionaire.
According to Forbes, the self-made singer from Barbados now has a net worth of 1.7 billion. This crowns her as the wealthiest female musician in the world. She is second on the list of wealthiest female entertainers, following only Oprah Winfrey, with a net worth of 2.5 billion.
If you've turned on the radio at any point since 2005, you've probably heard of Rihanna. She released her first hit, "Pon de Replay," in 2005 and made number one on the Billboard music charts with "SOS" only a year later. Since the start of her career, she has gained 101 million Instagram followers and 102.5 million Twitter followers. She has also appeared in movies like Ocean's 8 and Home.
Despite her musical fame, Rihanna made most of her fortune through her efforts as a businesswoman. Her luxury makeup brand Fenty Beauty was launched in 2017, and she has profited an estimated $1.4 billion from her 50% ownership. While the brand is only available online and in Sephora stores, it is accessible to many people with its inclusive products. Fenty's foundation is offered in 50 shades, from very light, pale shades to harder-to-find darker shades for people of color. It was one of the first beauty companies to prioritize distinct skin tones and included models diverse in gender, size, skin, and demographic when advertising. The brand's inclusivity was motivated by Rihanna's own experiences with makeup. The genuineness behind the development of a variety of makeup options is likely one of the reasons Fenty has been able to reach so many people.
Fenty made over $100 million within just a month of its release by marketing towards women and men, who had been treated as though they were nonexistent in the beauty industry for as long as beauty has been an industry. This "Fenty Effect" started a conversation about why makeup brands lacked diverse products when, as proven by Fenty, they could and would sell successfully. When sharing her goals for the beauty brand, Rihanna stated, "It was important that every woman felt included in this brand. We are all so different, with our own unique skin tones, so we started with the 40 foundation shades out the gate." Shannon Coyne, a cofounder of FentyBeauty's consultancy, remarks saying, "A lot of women felt there were no lines out there that catered to their skin tone. It was light, medium, dark. We all know that's not reality. She was one of the first brands that came out and said, 'I want to speak to all of those different people."
Maria Luna (12) says she doesn't listen to Rihanna's music, but she loves Fenty's makeup products. She says she loves "how they have skin tones in every shade." Rihanna has set a new standard for the beauty industry and is working to make the same changes with her lingerie line, SavagexFenty. "People want diversity and representation, ethnically and racially, but also in terms of shape and body type." Maryam Aamir (11) thinks it's considered monumental for female entertainers to be recognized as billionaires because "For the past century women weren't even allowed to vote, and it was all the white men getting credit. Women have always been doing significant things. They're just finally getting recognition."
According to TIME magazine, a minimum wage employee (at $7.25 an hour) would have to work for 305 years to earn the amount Rihanna's song Work made in a year. CEOs of major corporations earn nearly 300 times more than an average worker. The richest one percent of Americans (those worth over $10 billion) own 35% of the nation's wealth, while the bottom eighty percent own only 11%. The general public view of billionaires in America is becoming more negative, as many people label the U.S. as having a rigged economy. Twenty-nine percent of Americans say that personal fortunes of a billion dollars or more are a bad thing for the country.
Maryam Aamir (11) believes that billionaires have a philanthropic responsibility, and when someone has enough money to donate easily, they should. "There are people who are suffering, homeless, single mothers, kids who are dying; you need to do stuff to help." Poornima Nedumpurath (11) says, "Celebrities should also be using their influence to do good things, like helping persuade people to get vaccinated." Finally, Michelle Karam (10) questions large corporations like Fenty's methods, adding, "Is she exploiting the people who make her products? What matters ethically is how she's getting those products and what she's doing with the profits."
It seems like Rihanna is making a genuine impact in philanthropy with her non-profit Clara Lionel Foundation. Since 2012, their goal has been "to fund groundbreaking and effective education, health and emergency response programs around the world." CLF has education programs in Malawi, Barbados, and Senegal and a Global Scholarship Program. They also have a history of emergency outreach and response to natural disasters and donated a $1 million care package to relief organizations during Hurricane Dorian in 2019. Rihanna herself donated $5 million to COVID relief, $700 thousand to Barbados, and $2 million to children facing domestic violence during the pandemic.
Although luxury makeup products are expensive and out of reach for many people's everyday routines, the brand's influence alone makes a significant impact. The faces and body shapes we see on TV, the walls of local beauty stores, and even drugstore makeup aisles impact the way we define "beauty" and whether we feel we fit into it. Rihanna's use of her large platform to promote inclusivity and realistic beauty standards reaches even those who don't purchase her products. Her success has led to other brands' efforts to boost the representation of their products.
Whether this was her true intention all along or just cares about "ballin big like Lebron," Rihanna is now profiting billions off a positive message and a positive impact on her audience and customers.