Staff Spotlight- Lily Francois
Lily Francois (10), a staff writer for the Catalyst undergoing her second semester with the Wheeler Journalism team. Lily first took journalism "(as) a way to write more since I write a lot." Since then Lily has fallen in love with journalism and the people within the team. Since joining in the fall semester, Lily has contributed 5+ pieces to the Catalyst. Her most recent work is, "SATs Gone Virtual" and her personal favorite is the fluff piece, "Mars Berwanger the Engineering Teacher". Outside of journalism, Lily enjoys writing as a hobby and loves writing about fantasy. Lily is a tenacious worker, as described by Mrs. Marotta, "Lily has shown tremendous tenacity, she's overcome many challenges that were presented to her. She's shown a lot of growth." As a writer, she's displayed a similar work ethic in her pieces for the Catalyst. Showing great bounds of improvement in her craft, Mrs. Wickham commented, "Throughout the last year, she has grown as a writer. She is soft-spoken but shares her ideas through the written word." Being a talented writer and imaginative individual with a drive to constantly improve, both Mrs.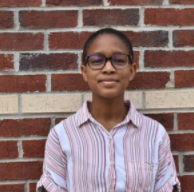 Marotta and Wickham share a boat of optimism when it comes to Lily. As an individual, Lily has been described as sweet and caring by those who know her and those who've just seen her around. With her skill set and personality, it can be stated that she is a wonderful addition to the Catalyst.