Kim and Kanye : What's to Come
Kim Kardashian-West, now Kim Kardashian, is a forty-one year old social media personality and businesswoman who is best known for projects such as her show : Keeping Up with the Kardashians, as well as clothing and makeup lines : Skims and KKW Beauty. She is a mother of four children whom she shares with musical artist Kanye West. Kanye West is a forty-four year old rapper and producer born in Atlanta, Georgia though was raised in Chicago, Illinois by mother Donda West who passed away in 2007. Growing up each star lived very different lives from one another. Kim Kardashian was the daughter of famous attorney, Robert Kardashian, who gained recognition after taking on the O.J. Simpson murder trial case. Not only was she raised by father Robert Kardashian, but she is also the daughter of Kris Jenner, a socialite and businesswoman who also starred in Keeping Up with the Kardashians. Kim Kardashian grew up financially comfortable and was accustomed to the lime-light at a young age, whereas Kanye West did not exactly have that. Prior to fame, Kanye West was living in a house in Chicago's South Shore community. Having grown up in a cultured and well-diversed city such as Chicago, Kanye developed an interest towards anything art at a young age. He gained recognition in 2001 when he produced music for Jay-Z. In the years to come, Kim Kardashian and Kanye West would both rise to fame given their talents and projects which would then lead the, then couple, to meet and start dating in 2012.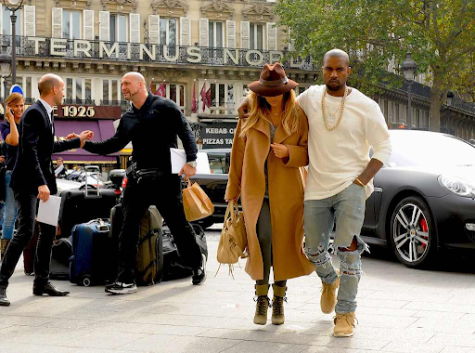 The famous couple began dating in 2012 to then later on welcome their first daughter, North West, in 2013 as mentioned in news18.com, "Kim got pregnant with Kanye and her first child, North, even before her marriage with Kris Humphries was legally over". They went on to have 3 more children together, later splitting up in February of 2021. As of recently, Kim and Kanye's separation has been trending on every social media platform there is. With so much going on in our world today, Kim Kardashian and Kanye West seem to be a topic of interest yet again, but why is the media so intrigued by their situation and personal life ? Marlon Martinez, senior at Wheeler High School stated, "People like drama, and at the moment so much is happening and this news is a piece of the craziness happening. They're also celebrities, yet humans at the same time so they're not perfect which can confuse people". Kim Kardashian and Kanye West have both been in the spotlight for quite some time now and though they've each grown to accept the concept of their personal lives being everywhere online, is it still reasonable for this to have been brought onto social media ? Chris Mordecai, a junior attending Wheeler High School said, "No, they shouldn't have taken it onto social media. You don't need the whole world knowing every detail about your life".
Kim Kardashian filed for divorce in February of 2021. This news broke the internet and led for both stars to trend on twitter and various other social media platforms. Since Kim's desire and actions towards a divorce, the media has seen the many reactions of Kanye West from: twitter rants to instagram posts. Seen in the-sun.com, "On November 24, 2021, Kanye went to deliver meals to families at the L.A. Mission just before the Thanksgiving holiday. During his visit, he also took to the opportunity to grab a mic and make some statements about his former marriage to Kim. …He went on to say he believes that "The Kingdom" will bring him and Kim back together". Many believe Kanye is in the right when it comes to custody and being able to voice his opinion, meanwhile others believe Kim is logical for trying to keep private, and putting herself and children first. Mahsai Williams, a sophomore at Wheeler High School shared his opinion, "I believe both of them are each half right and half wrong. Kanye is dealing with things he needs to resolve, and hopefully Kim can tone down security for Kanye to be able to fully see his kids again". Freshman Christopher Charles also voiced his stance stating, "Nobody is in the right. Kanye just wants to see his children, and Kim is against it, which I believe they should share custody. Therefore, I don't see why anyone is "right" in this situation".
Mahsai Williams, sophomore attending Wheeler had also stated, "With everything Kanye is going through… hopefully he can try going through rehabilitation, and then try to one day plead in getting to see his kids again". After Kanye's multiple online breakdowns, the media has grown to assumptions and conclusions that he is in need of mental health help such as therapy, etc. Not only have we seen his twitter rants on ex-wife, Kim Kardashian, but we've witnessed his online statements including political stances that the media was not too content with. Shared in an article published by
republicworld.com, "Twitter comes a day after Kanye appeared in an unusual political rally in South Carolina where he spoke on various topics and ultimately broke down in tears", the internet was concerned as to why the forty-four year old rapper had been brought to tears, wondering what was next for Kanye West ? As of March 3rd, 2022, the two celebrities are now officially divorced, and the media is left to think: what is to come for Kim and Kanye ?