Making History at the Screen Actor Guild Awards (SAG) 2022
The Screen Actors Guild Awards, or the SAG Awards, is a televised awards ceremony held to honor performers. It covers the performances in various movies and television shows over the year. There are 13 awards presented, including both individual performances and the cast as a whole. In 2022, the individual actors nominated include famous faces such as Will Smith, Lady Gaga, Denzel Washington, Bradley Cooper, and Andrew Garfield. The television shows and movies that are represented include King Richard, Squid Game, Succession, House of Gucci, Belfast, and CODA.
For many actors and actresses, receiving a SAG Award is part of the road to an Oscar. This includes Will Smith, who has yet to win an Oscar, but received his first award (Outstanding Performance by a Male Actor in a Leading Role) for his performance as Richard Williams in "King Richard." As many know, "King Richard" is a film about Richard Williams, the father of Venus and Serena Williams, as he coaches his daughters into becoming professional tennis players. Smith was in tears over his victory, and his emotional speech reflected the meaningful impact his role in the movie held. In his speech, he honored his fellow cast members and the Williams family that the movie had represented. With his win, many people believe that 2022 will finally be the year that Will Smith wins an Oscar. Denzel Washington was also nominated for Outstanding Performance, but despite his loss, he leaped from his seat after the recipient was announced and excitedly congratulated Smith on his win.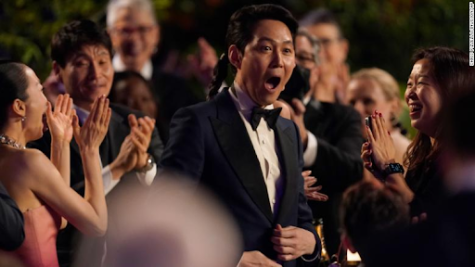 One of the most popular shows in 2021, and one that everyone has at least heard of, was Squid Game. The South Korean drama television series on Netflix became very popular with Western audiences, and many fans were excited to see Squid Game Actors represented at the SAG Awards 2022. Both actors that were nominated, Lee Jung-Jae and Jung Ho-yeon, won Outstanding Performance in a Leading Role for their respective genders. This was a monumental victory, as Squid Game was the first non-English series to win a SAG Award. Later, CODA won Outstanding Performance by a Cast in a Motion Picture. CODA is the coming-of-age story of a seventeen year old girl who is the sole hearing member of a deaf family. The cast as a whole winning this award was a historical moment, as the cast of the movie is mainly deaf. When CODA was announced as the winner, the audience all raised their hands and signed "I love you" in ASL.
Broadway and musical fans felt especially represented at this year's SAG Awards. With her first nomination, Ariana DeBose won Outstanding Performance for a Female Actor in a Supporting Role. Previously, she was only known for Broadway performances, but after playing Anita in West Side Story's live action, her name has become known in the film world as well. At the beginning of the ceremony, three of the members of the original Hamilton cast, Lin Manuel-Miranda, Leslie Odom Jr., and Daveed Diggs, wrapped up the 'I am an Actor' segment and reunited to open the show. Though their speech was underwhelming for most fans, the three gave shout-outs to a few of the nominees, including Andrew Garfield who was nominated for his role in Miranda's live-action adaptation of the musical "Tick, Tick… Boom!" on Netflix. Beloved former Spiderman actor Andrew Garfield was nominated for Outstanding Performance by a Male Actor in a Leading Role for his performance as Jonathon Larson in "Tick, Tick… Boom!." Although most believed Will Smith is deserving of the award, many fans of the musical are disappointed by Garfield's loss. Overall, the Screen Actor Guild Awards 2022 created historical moments and representation for many of their viewers through the actors represented at the ceremony.
Interviews:
What actor/movie/tv show deserved an award?
Lauren Murray- dune
Annsley Dement- lady gaga (house of Gucci)
Alleyna Brown- "lady gaga should've won outstanding performance by a female actor in a leading role for her performance in house of Gucci. she played her character incredibly well and I feel as if the media continues to downplay her acting."
What actor/movie/tv show deserved a nomination?
Lauren Murray- red notice
Annsley dement- in the heights
Alleyna brow- dune for outstanding cast in a motion picture