Wheeler Spirit Week 2022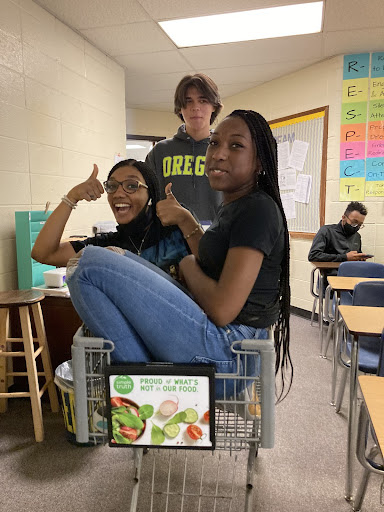 This spring wheeler High School is doing their annual spirit week for this weekend's prom where students can dress up in unusual themed costumes. For this week's spirit week, Monday is Match your mate day, then Tuesday will be Meme day, followed by Pop culture day Wednesday, next anything but a backpack day, and lastly Pajama day on Friday.
Prom spirit week is fun for students going to prom to show some school spirit. Wheeler High School prom will be on April 23, 2022from 7:00 pm to 11:00 pm. The prom will be located at Twelve Hotel Midtown 361 17th Street NW, Atlanta, GA 30363. Students, including guests, must show their school ID at the registration table along with their ticket(s) to enter. Tickets were distributed in the homeroom on Wednesday, April 20th. Guest Approval forms must be submitted to Admin IV by Friday, April 15, 2022. NO EXCEPTIONS!. Also, you must sign a prom contract before you can receive your ticket(s). And remember, If you receive and/or have received 10 days of OSS or more during the Spring 2022 semester, you will not be allowed to attend the prom. You should not purchase a ticket and if you decide to purchase a ticket, it will not be refunded. You must be present at school on Friday, April 22, 2022, for at least half the day to attend prom. Lastly, snacks, as well as beverages, will be served and parking will be an additional cost if you choose to park in Atlantic Station. For more information, you can visit https://www.cobbk12.org/wheeler/_ci/p/62748.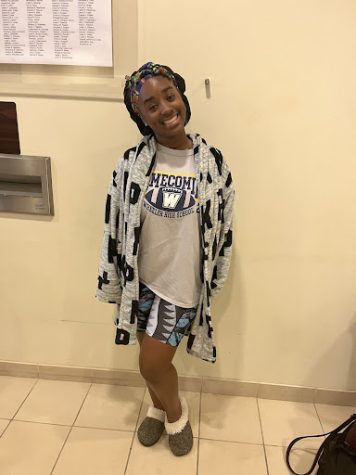 Pajama day was the most comfortable day for students at Wheeler's for sure. Kids came in there at night time, including Robes, bonnets, and more. Reyna Porter is an 11th grader who told us about her amazing PJ outfit. She stated, "So I came with my comfy gray and black robe I got from Pink, under that, I have my wheeler wildcat T-shirt and some slippers and shorts I also got from pink. Then to finish it off I wore the bonnet that I usually wear before bed." Another person who stood out was Kathilyn marques, a 10th grader who told us about what she wore for pajama day. She revealed, " I bought this green money robe just for today because I wanted to match with my friend. So I bought this robe from Shein online for 25 bucks and I just wore some nice shorts I had at home and that was it for my outfit.
Bringing anything but a backpack day was hands down the most hectic day in the history of spirit week. It wasn't hard to spot kids with laundry baskets, toys, shopping carts, and even refrigerators!!! One student we interviewed by the name of Riley Hall is a 9th grader who bought an empty 3 foot laundry bag to school. When asked about the idea behind it she said, " My first choice was to bring a huge stick with a blanket wrapped around the end but i coiled find a blanket on such short notice so I just emptied out my laundry basket. I also thought it was too big but then I saw what everyone else brought and I felt a little better." Another student who participated in spirit week was Janea Rios, an 11th grader. She brought her little sister's toy basket. When questioned what inspired her to bring it she said, " to be honest i had to beg my little sister to let me bring it, even though she's 12 years old and was too big for a toy chest, And i told her id bring it back and that she owes me because she steals my stuff all the time so she eventually said yes."