Engaged: Ben Afflack and Jennifer Lopez!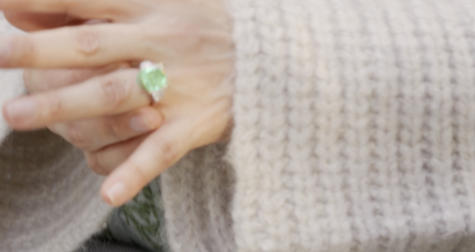 Ben Affleck proposed to Jennifer Lopez, April 2 nd , while she was taking a bubble bath! She said
she "…was taken totally off guard and just looked in his eyes smiling and crying at the same
time". Jennifer confirmed the engagement in her newsletter, "On the JLo", April 8 th , 2022, and
shared a clip of her green diamond ring which she also said in the newsletter, is her lucky color!
The two have known each other for about 20 years (2002-2022) and were engaged in 2002
shortly after Lopez split from her second husband, Chris Judd. However, in September of 2003,
close to the wedding day, they decided to scrap the wedding, but stay together. They officially
broke up in January of 2004. Over the years they stayed connected but were not seen together.
Though in April of 2021, Affleck was thought to be going to see Lopez. Reporters recognized
the two vacationing together in Big Sky, Montana and enjoying each other's company in Miami
the next month thus were thought to be dating. This theory was confirmed when they were seen
cuddling together at dinner, kissing in Malibu, taking their kids to Universal Studios, and
searching for a house together in June and July of 2021. In September and October, the two
showed up on the red carpet together for Affleck's movie premiere of The Last Duel. For
Jennifer's premiere of Marry Me, in February of 2022, they again came together. Then in April
of 2022 the two became engaged again!
Ben Affleck is an American actor and filmmaker who briefly attended college but left to pursue
acting. His first role was in a Burger King commercial in 1984. Affleck and Matt Damon were
childhood friends who did not like the roles they were receiving so they wrote a script and
produced Good Will Hunting. This won them both Oscar's and he began getting better roles
because of that. Notably, he costarred with JLo in Gigli (2003), starred in Hollywoodland which
got him nominated for a Golden Globe Award in 2006, he was in Gone Girl based on the
bestselling book (2014), played Batman in Batman v Superman: Dawn of Justice (2016) and in
Justice League (2017). He also directed his first film Gone, Baby, Gone, in 2007, directed and
starred in The Town (2010), directed and starred in Argo (2012) and won a Golden Globe, and
directed and starred in Live by Night (2016). Affleck seemed to have a thing for Jennifer's as he
and Jennifer Lopez got engaged and broke up in 2003 and he married Jennifer Garner (2005-
2018).
Jennifer Lopez is an American actress and musician. In 1986, at 16, she made her debut in My
Little Girl and first came to television in 1990 in the show In Living Color. Her acting career
didn't end there however as she has had many roles over the years including a role in 1997 in
Selena, The Wedding Planner (2001), she was an American Idol judge (2011-12, 2014-16), she
provided voices for Ice Age: Continental Drift (2012), Home (2015), and Ice Age: Collision
Course (2016), and her most recent films are Hustlers (2019) and Marry Me (2022). Musically,
she released her debut album in 1999 called On the 6 which went platinum and sold more than 8
million copies, she performed at the Superbowl halftime show with Shakira in 2020 and sang at
the presidential inauguration of Joe Biden. Jennifer married singer Marc Anthony in 2004 (after
being engaged to Affleck) and had twin girls with him in 2008, but they divorced in 2014.
Now that the two are engaged once more, the big question is, will they stay together and get
married this time? Affleck and Lopez are a Hollywood couple and often these couples do not
Last. Whether it is from being exposed to the media "because the more exposed the more likely
they will not last", from outside forces like when "people get in their relationship and make up
rumors" or personal issues "because they have a lot going on in their lives already" (Mia
Stocker- 9 th grade, Abigail Winders- 9 th grade, and Rose Greenspan- 9 th grade) Mrs. Feddersen,
who is a teacher and coach at Wheeler says "… they [Hollywood couples] are too headstrong and
power-hungry and cannot accept their spouse's fame. They are in it for lust not love." Marriage
tests the strength of a couple in the eyes of all kinds of struggle and arguably the struggle is
worse for famous couples. But if their love is strong enough and they continue to support each
other as they have in the past, JLo and Ben could be one of the few couples who grow old and
share life-long, loving memories together.