Autumn Spice Milkshake at Chic-Fil-A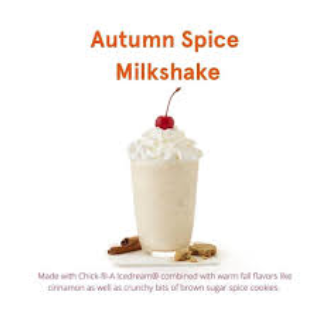 Aryan Chadha, Editor in Chief, Opinions Editor
October 26, 2022
Chic-fil-A has been a champion of seasonal milkshakes, with the wintery peppermint and summery peach being some of their most popular flavors. This time, they've endeavored into a fall-themed milkshake. The name of this new milkshake is "Autumn Spice," which combines cinnamon and crunchy bits of brown sugar spice cookies.
The new naming technique was an aspect of the milkshake that caught many Chic-fil-A goers off-guard. Chic-fil-A's previous milkshake names have always been relatively straightforward, with the most abundant ingredient simply beings its title. However, the Autumn Spice milkshake leaves customers with a vague idea of what the contents of the shake entail. Some people, such as Nandu Polavarapu (12), question this new method. "I don't like how we don't know exactly what the drink is. Usually, Chic-fil-A is straightforward with how they name things."
As for the milkshake itself, the responses have been relatively positive. Spencer Banko (12) says, "It's better than chocolate but worse than cookies and cream." Some people are starting to warm up to the new flavor: "I had it once but didn't think it was amazing or anything. Then, I went to Chic-fil-A and only went for the Autumn Spice shake. Honestly, when I was comparing the cookies and cream and Autumn Spice, I realized I might like the Autumn Spice more. The fall theme really matches the flavor." (Arnav Chokshi, 12). Others, such as Carie Crowe (12) and Vachan Patel (12), have been lukewarm and called the shake "pretty good."
Overall, it seems that Chic-fil-A's marketing campaign has successfully introduced a traditional idea in a new, exciting way. People haven't fully acclimated to the new naming system, but they appreciate Chic-fil-A's willingness to add seasonal flavors. We can only wonder if a spring-themed drink is in the works.