Christian McCaffrey traded to the 49ers
Christian McCaffery, the number eighth pick in 2017 drafted to the Carolina panthers, McCaffery's years with the panthers was statistical, lengthy and impressive but was also filled with on and off injuries. McCaffery has a history of missing games in recent seasons, he missed games in three separate stints in 2020: six games for an ankle sprain, four games with an A/C joint sprain, and four games with a glute strain. He missed another five games with a hamstring strain in 2021 and missed week 12 onward with an ankle sprain. The injury history is not only alarming for its recency, but also because outside of the shoulder it's all lower body, which means he's taking shots overtime. McCaffery only played 10 games from 2020 to 2021, missing 23 of 33 regular season games. Outweighing these cons McCaffery was a two-time All-Pro, earning First Team honors at both running back and flex positions. He once had 50 yards rushing, 50 yards receiving and 50 yards passing in all the same game, joining Walter Payton as the only NFL player to ever do that. In 2019, he famously joined Roger Craig and Marshall Faulk as the only players in NFL history with 1,000 rushing yards and 1,000 receiving yards in one season (let's not forget he's a running back). He made a huge impact with the Carolina Panthers and ended his years with them with 7.272 scrimmage yards and 50 scrimmage touchdowns in six seasons with the Panthers.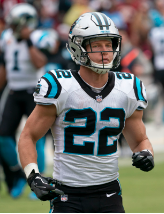 Christian McCaffrey takes the field for the last time with his Panthers
On October 21st Christan McCaffery was traded to the San Francisco 49ers who have been in desperate need of a running back to get their running off the ground. Scott Fiterer, the Panthers' general manager, said "it was a tough decision to let McCaffery go. But ultimately it was the right call. It just got to a point where we thought, this was what was best for the organization moving forward, that this is the right move. It's a tough move because when you have someone of Christian's stature in the community, the type of player he is, the type of person he is. It's really tough," Fiterer said. In exchange for trading CMC, the Panthers are getting several draft picks – a second, third, and fourth-round pick in 2023 and a fifth-round pick in 2024. The trade sends McCaffery back to the Bay Area, where he starred in college at Stanford. In a Friday Moring tweet, McCaffery said "I'm forever grateful for all the people who have helped make these past 5 ½ years so special for me. Thank you from the bottom of my heart. Carolina, I will always love you #keeppounding."
Interviewee Shemarr Session (11th) says "I think CMC will do great on the 49ers they have a great o-line that will do their job at blocking, so he won't have to sacrifice his body trying to get though the line more than he already has. I think the 49ers have a chance to go for a playoff run again maybe not all the way but they have a decent chance and CMC made the right decision it's going to be great to see how this turns out."
Julian Browns(12th) says "I don't really know if this was a great move honestly because the 49ers don't seem to have their team really set yet they keep having injuries on top of injuries, I think he should've went to a more put together team in my opinion."
Gregory Blanks (11th) says " I think he should've went to a super bowl contended team cmon now plus he's injury prone If he gets injured the 49ers is not going to know what to do they run game going to get shut down every time."
McCaffery debut was week 7 against the Chiefs, they lost 44-23 but McCaffery got a team high of 8 carries and generated 38 yards, he also had 2 catches for 24 yards. McCaffery looked good in his debut in red and gold. On week eight against the Rams win 31-14 McCaffery threw a 34-yard touchdown pass, had 94 rushing yards, 55 receiving yards, 1 rushing touchdown and 1 receiving touchdown. 49ers Kyle Shanahan said McCaffery will be a great asset to the 49ers.