MLK Assembly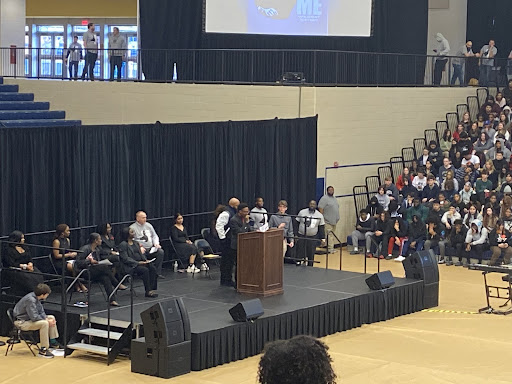 Aryan Chadha, Editor in Chief, Opinions Editor
January 17, 2023
This year's MLK Jr. Assembly was executed through the Black Student Union, led by president Bryce Thompson. It consisted of an assortment of various speakers, singers, and performers who all shared a common goal: to continue the legacy of Martin Luther King by inspiring others to fight for what is right. This year's theme was "Lean on Me", which comes from the acclaimed song originally performed by Bill Withers, whose message urged everyone to lean on each other in their times of struggle.
Since there were so many mediums of art, certain pieces resonated with certain people. Ewuraba Buckle (12) comments, "I enjoyed when Mr. Kirkland sang and everyone clapped and shined their flashlights."
Others enjoyed the more emotional pieces, such as the spoken word near the end of the assembly, in which the speaker used incredible energy to define "our dream". People also enjoyed the band performances, such as Vachan Patel (12), who says, "The musical performances were very well thought out this year."
One of the greatest imperatives of the assembly is honoring and continuing the legacy for whom the assembly is named after. When asked if this year was a success with this in mind, Mohnish Mara (12) states, "I think the assembly prevents the impact of the speech from dissipating, but at the same time, the speech is seen from a different angle relating to aspects of his efforts from the past."
Ewuraba Buckle (12) agrees, saying that, "[The assembly] reminded our student body of his importance, legacy, and message to treat everyone equally and with respect."
Overall, the assembly was a success, both in the regards of it bringing the students population together, as well as reminding us how important it is to fight for what we believe.