Cop City
Deep in the Weelaunee Forest, a watershed surrounded by primarily black residents, the Atlanta Police Foundation is attempting to construct multiple large military-grade training facilities. The law enforcement center will be built over 85 acres of indigenous forest and green space and has been nicknamed 'Cop City' for its size and industrialism.
Debate over the construction of the facilities has been raging since the city council meeting in which it was proposed in September of 2021. "City officials assert that the center could improve policing, while critics claim the effort is militarizing police and endangering communities" (ABC, 2023). The protest organization "Stop Cop City" has been demonstrating against the facility for months, claiming over-policing will harm marginalized groups like the Native American community whose land is being destroyed for the construction of the facility, or the black community who historically have been the victims of police brutality and prejudice. Overall, the concept of the training facility has encouraged discussions about the prison industrial complex and the relationship between marginalized communities and law enforcement.
Protests have escalated since the killing of a 26-year-old protester named Tortuguita, who "'did not comply' with law enforcement's commands and allegedly shot a state trooper" (Georgia Bureau of Investigation, 2023). Since Tortuguita's death, protesters' tactics have turned destructive, as seen by damaged windows of three buildings and a police car that was set on fire. However, organizers claim that the violence was provoked after police arrived and began "using intimidation tactics" to remove the peaceful protesters from the forest.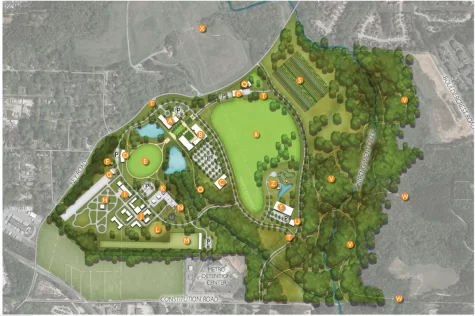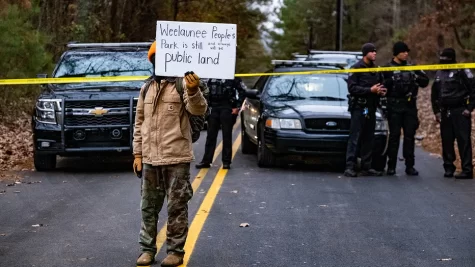 So far, six people have been arrested in correlation with the protests. Ella Brannen (12) has this to say about the construction of Copy City: "[the Weelaunee forest] is one of Atlanta's last remaining large green spaces." She continues to share that "with Atlanta's huge black population, the idea of creating more over-policing will only increase police brutality."
Defunding the police has been a common topic of discussion ever since the killing of George Floyd and other black individuals during the Summer of 2020 and the protests that erupted across the nation against police brutality. "It's really like they're going backwards," says Katie Castellow (12), "placing a center for militia-like training in a community with a large homeless population and a large drug abuse population and a large black population will inevitably cause conflict and people are going to get hurt or even die."
Since the murder of Tortuguita, news sources and lay people across the nation have raised questions regarding the effectiveness of protests. Castellow comments on the tactics of the protestors: "I agree with how it started because initially, protests were peaceful doing kind of a sit-in on the forest land, and then eventually it turned into violent protests in the Atlanta area which is already a dangerous area. My mom saw a cop car get blown up. I don't necessarily agree with all the tactics, but I think that they should not be building a 'Cop City' so whatever they have to do is relatively justified." Drew Marshall (12) echoes these ideas: "I think the backlash from law enforcement has been excessive, but there should be better ways of protesting," he said.
In summary, the construction of 'Cop City' has raised protests from environmentalists, the black community, the indigenous community, and others who support the as before mentioned groups. Nationwide, 'Cop City' has sparked conversations about prioritizing climate and race relations over excessive policing. Protesters are predicted to continue their demonstrations until a change is made. As of right now, according to the Atlanta Police Force, construction of 'Cop City' will begin in late 2023.