Hype Behind Hoopcoming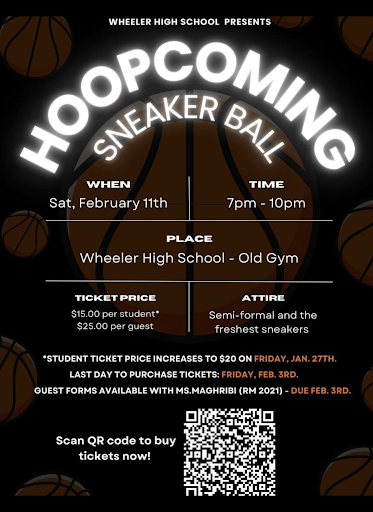 The new Hoopcoming dance has left many students around Wheeler with questions of what exactly it is, how it's different from Homecoming, and why we're having another Homecoming for basketball right before Prom in May.
The members of student government organizing this event are for all grades and have told students to bring their best kicks and make their way to Wheeler on February 11th. This event will be taking place on this day from 7pm-10pm at the Old Gym at Wheeler, and the prices for wheeler students stand at 15 dollars, and for guests prices are 25 dollars.
Being that this is the first year Hoopcoming will be taking place, many students around Wheeler have been very confused about what to wear, would it be fun, and mostly, why Hoopcoming was planned in the first place. Ms. Gibson, however, assures that Hoopcoming will be "a slam dunk of a good time".
According to a student government member, Maryam Aamir (12), the Hoopcoming dance will be a more casual dance for the students to have fun and hang out with one another, without the stress of the planning and fancy attire of Homecoming. The Hoopcoming dress code has been said to be a nice dress or Sunday best type outfit with sneakers or one's best shoes. Student government created this event because – why not? Because Homecoming is such a big event at Wheeler, the Student Government believed that students would enjoy having two dances for them to "show off some of their best moves" and "have a fun time with friends" (Maryam Aamir).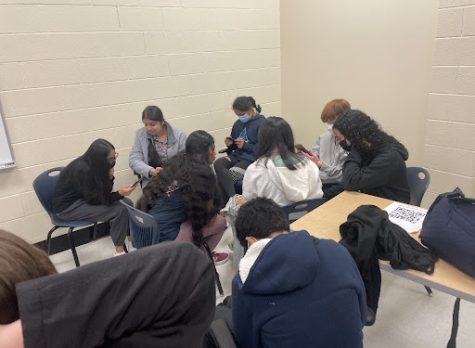 Similar to Homecoming, Hoopcoming will also have the Basketball court as they have every year, and students have begun nominating one another to be on Hoopcoming court for a chance to be King/Queen and Prince/Princess. Ms. Alissa Jean also said that she heard there will be a raffle at the dance which students should look out for.
Hoopcoming will be a regular school dance, just like any other. It will have dancing, music, photobooths, snacks, and will stand as an opportunity for students to interact with their friends and have a good time. Alexis Allen (12) says, "I will definitely be attending Wheeler's Hoopcoming! I'm most looking forward to dancing at Hoopcoming and showing off my best moves. I'll be wearing my best sneakers and hopefully shooting hoops!"
In addition to this, student, Shreya Vavilala (12) says, "I'm most excited for the high intensity dancing I'll be doing, the dunks I'll be seeing, and the fact that Hoopcoming will have basketball."
Maren Kissling (10), shows her excitement towards the new Hoopscoming when she says, "I'm extremely excited for Wheeler to have a basketball homecoming! I can't wait to get ready with my friends, plan a fun night, and have fun dancing and taking pictures! I can't wait!" This event will definitely be fun for all grades!
If Hoopcoming is seen to be successful this year, it could possibly become a huge part of Wheeler tradition and become a yearly dance. This will definitely allow students to take a break from the stress of their classes and just spend a Saturday dancing and having a blast with their friends.
Students wishing to attend the dance or bring a date to the dance can buy their tickets online on the Wheeler Student Government instagram account: @wheelerstuco. Students wishing to bring outside Wheeler guests must sign a form. The ticket prices increased to 20 dollars on January 27th, and the last day to purchase is February 3rd. Students should definitely come to the dance and don't forget- wear your best kicks!