Ant-Man and the Wasp: Quantumania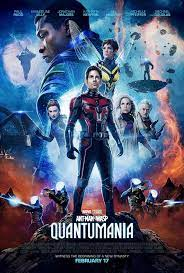 Ant-Man and the Wasp: Quantumania is the latest installment of the Marvel Cinematic Universe (MCU). Directed by Peyton Reed, it is the third Ant-Man film after Ant-Man (2015) and Ant-Man and the Wasp (2018); it also stars Paul Rudd and Evangeline Lilly. Jonathan Majors joins the Ant-Man cast as the movie's main antagonist, Kang the Conqueror. The movie also added stars Kathryn Newton and Bill Murray. Being the first film in phase five of the MCU, fans, and critics had big expectations. Though some thought the movie lacked, others thought it achieved what it was trying to. Nonetheless, many fans agree that the performances of Kathryn Newton, Jonathan Majors, and Paul Rudd were exemplary.
"I am a big Paul Rudd fan." Says Senior Ella Brennen, "Paul Rudd is my favorite actor in the movie. His character [Scott Lang, Ant-Man] is funny and doesn't take himself too seriously." "The advertisement made me watch the movie. It was really fun and unique and really hooked me." Many fans agree that the acting performances are the only thing the movie has going for it. "I really did not like the movie. The other two movies were way better, and the plot was actually interesting. The jokes were better, too" (Lucas Elmiger 12). "The movie's humor really declined compared to the other Ant-Man movies.," says Sophomore. "The plot was bland, but the villain [Kang the Conqueror] was pretty cool." The movie was 50/50 for most, with even diehard marvel fans noticing its flaws.