Cats Meow: Mrs. Todoric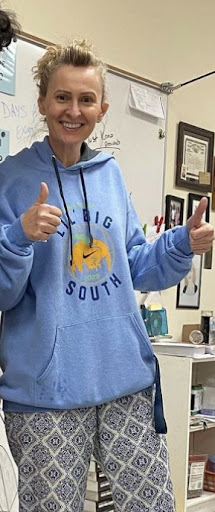 For more than 20 years, Mrs. Todoric has been a crucial member of the Wheeler High School community. By her engaging and energetic teaching style, she has inspired generations of students to pursue their academic and personal aspirations.
Prior to working with the Wheeler family in 2001, Mrs. Todoric started her teaching career at a middle school. She has since earned the respect of her peers in the English department, where she teaches AP Literature to 11th graders and another Lit course to 10th graders.
Although being born in Serbia, she promptly named Italy when asked which nation in Europe she preferred. The students were shocked to learn this because Mohnish M. (12) believed Spain would be her favorite country, whereas Derek N. (12) assumed Serbia.
Mrs. Todoric noted that Italy is her favorite nation because of its Mediterranean-style weather, cuisine, and wine. She also feels a strong attachment to Serbia, where she was born, which is a close second. Mrs. Todoric is a teacher and traveler, but she also has a playful side. To the amazement of her students, she decided to be Kevin when asked which of the minions she would be.
There is no denying Mrs. Todoric's commitment to education and her influence on the Wheeler community. She has been with Wheeler for 22 years, and we thank her for her unwavering commitment to education and wish her many more years of success.