The Indictment of Donald Trump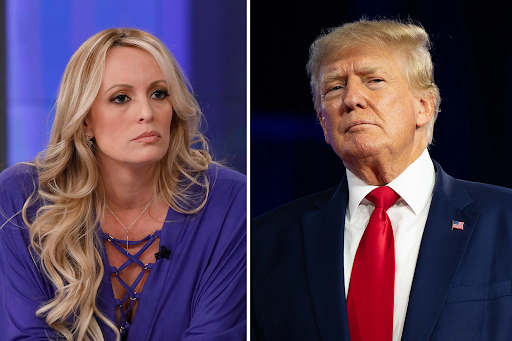 For the first time in U.S. history, a former president has been placed under arrest. On April 4, 2023, Donald Trump was arraigned in Manhattan where he pleaded not guilty to 34 felony counts of falsifying business records with connections to alleged hush money during his 2016 presidential campaign. He had been indicted by the Manhattan grand jury due to an investigation about a payment from his former attorney, Michael Cohen, to an adult film actor, Stormy Daniels. It is alleged that this money was used to bribe Daniels from telling the public about an affair with Trump during his presidential campaign. This investigation began during Trump's presidency, and the prosecutors claimed that Trump was part of an illegal conspiracy to promote his candidacy by falsifying business records. When asked about the legitimacy of the arrest, Ewuraba Buckle (12) stated, "A felony crime is a crime regardless if you are a former president or just a citizen."
Donald Trump was the President of the United States from 2017 to 2021. During his presidency, he was highly controversial and his actions generated a significant amount of debate. He pursued several policy initiatives such as tax reform, travel bans, and deregulation. Trump was also well known for his use of social media, particularly Twitter, to communicate with the public and criticize his opponents, generating a large amount of attention. "I remember when Trump's tweets were everything everyone was talking about such as when he claimed Barack Obama's birth certificate was a fraud," claims David Kan (12). Trump used Twitter to announce major policy decisions and share his opinions with inflammatory language. In 2021, Twitter permanently suspended his account due to their potential for further incitement of violence. 'While Trump receives quite a bit of criticism, it is true that he is able to garner lots of media attention towards himself," explains Maren Kissling (10).
Diving deeper into the indictment, the supposed scandal with Stormy Daniels began in 2018. Trump initially denied having any knowledge of the payment, but then later on, he claimed that he had reimbursed his lawyer for the payment. The legal proceedings continued for several years, and Daniels was given $450,000 in a settlement agreement. During his presidency, the scandal did not result in any criminal charges, but it caused ongoing debates about his fitness for office.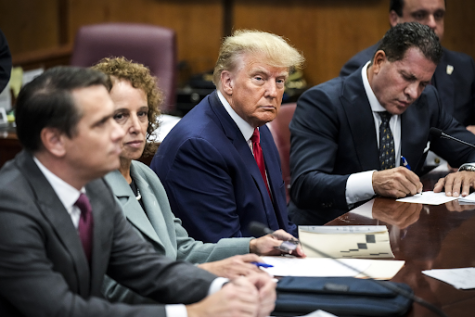 After his arrest, Trump remained level-headed and spoke calmly to the judge in court. The fraud Trump committed is from when he reimbursed Cohen but classified it as "legal expenses" and cited a retainer agreement that did not exist. The 34 counts of falsifying business records can be categorized as 11 counts involving checks, 11 counts involving monthly invoices, and 12 counts involving entries in the general ledger for Trump's trust. In the upcoming months, prosecutors and defense lawyers will exchange documents and evidence, and Trump is prohibited from posting evidence on social media. "I think it is for the best to keep Trump away from social media during the time being given his history of spreading misinformation," exclaimed Jerry Zhang (12).
Joseph Tacopina, one of Trump's lawyers, claimed that he will be filing a motion to dismiss the entire case and the charges. However, these motions usually do not result in the dismissal of the case. Trump's legal team is also trying to have the case moved to another court as he believes that he cannot receive a fair trial in Manhattan, a liberal enclave. Instead, Trump suggested Staten Island, a far more conservative area. The next hearing in Trump's case will be on December 4th. However, Trump still has a legal chance to become president even if he is convicted. Jaycee Hoffman (12) expressed, "Since his arrest is based on his actions during his last presidency, I think it will be a lot harder for him to win more support for his 2024 presidential campaign.