Kyla Durand (10) is a first-year writer for the Catalyst. Durand joined journalism because she heard great things about the class and the teacher. She enjoys writing for The Catalyst's Life in Style, and Cat Meow sections the most. She just wrote a new story called "The Best Halloween Costumes Ideas." You can find the story in The Catalyst.
Durand is also a cheerleader for Wheeler High School. She is a varsity blackspot and is based on competitive and sports games. Coach Haney said beautiful things about her. "She is a great helper to me and her teammates," Coach Haney said. "One thing I love about Kyla is her smile." At the Catalyst, she also assists students when writing their fluff pieces or stories.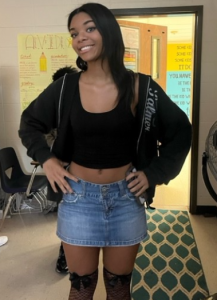 Her classmates also had beautiful things to say. "I met Kyla at the beginning of this semester, and she made an outstanding impact on me. She pushes me to do my work and help others." Durand is a lovely, friendly girl who inspires everyone around her. Durand works every to turn in her work on time, but if something she has no shame in turning it in late. With her busy schedule, Durand finds time to turn work in on time and reasonably. She is planning on returning next year to be a veteran. Even though she isn't planning on majoring in journalism in college, she loves the art of writing. Another friend of Durand's, Rose Greenspan (11), said, "She is super nice and has a good work ethic." Greenspan met Kyla at the being of the semester, too. Durand makes friends with everyone around her. She is friendly and talks to everyone, and never judges.