On October 7, 2023, Hamas, a terrorist group located in Gaza, launched an attack on a festival in Israel. At least 1,400 people were killed – the most significant attack on Jewish people since the Holocaust – and at least 239 were taken hostage. In return, Israel launched their attacks, repeatedly stating that they aim to completely "eliminate Hamas." However, they have failed to do one crucial thing: separate Palestinian civilians from the Hamas terrorist group.
The Arab-Israeli War in 1948 was followed by the "Nakba," which means "catastrophe" in Arabic. The Nakba was the extreme displacement of Palestinians, which resulted in their occupation of the Gaza Strip (2.2 million Palestinians live there now), which is commonly referred to as the "largest open-air prison in the world," and the West Bank (3 million Palestinians). This graphic shows the timeline of how Palestine's land has been reduced, and Israel's has increased.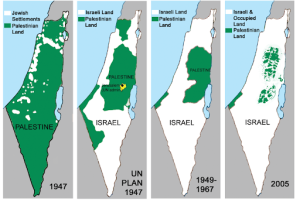 In the 24 days since October 7, over 8,000 Palestinian civilians have been killed in Israeli airstrikes. However, in a press conference on October 25, President Joe Biden stated, "I'm sure innocents have been killed, and it's a price of waging a war. But I have no confidence in the numbers that the Palestinians are using." This is because these numbers come from the Gaza Ministry of Health, which is technically under Hamas control. In response to this, the Gaza Ministry of Health released a list of names of 6,747 people who were killed, including 2,665 children. It also lists another 281 Gazans who have been killed but not yet identified. This list was 212 pages long, including each victim's name, age, and ID number.
From October 7 through October 26, Israel has reported 1,400 of their casualties, including 309 from the Israel Defense Forces (IDF). The IDF is one of the best militaries in the world, with some of the most advanced technology and training for its soldiers. Mr. Kurkjian, a history teacher, said that he feels Palestine vs. Israel is "not a fair fight" because of Israel's advanced weaponry, compared to how the Palestinians don't even have an army. He also said, "Hamas and Palestinians are different. Not all Palestinians are Hamas. Most of them aren't. But Israel doesn't seem to want to acknowledge that." Dr. Astorian, another history teacher, agreed, saying, "It is a complicated situation, and I feel for all the innocent people who are suffering as a result of their government's actions."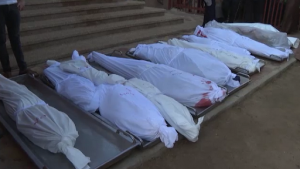 According to the United Nations Office for the Coordination of Humanitarian Affairs, as of October 23, at least 45% of Gazan housing units have been destroyed or damaged, leaving 1.4 million people displaced – around 63% of all the people in Gaza. Additionally, many other buildings have been destroyed, including hospitals that housed displaced and injured Palestinians, including those on life support. One such hospital was the al-Ahli Hospital, the only Christian hospital in the Gaza Strip. It was bombed on October 17, and at least 1,000 civilians were killed. However, it is unclear who exactly fired the rocket, seeing as Israel and Palestine both deny it was them and claim it was the other country. Other countries worldwide have added to this confusion, showing evidence from intelligence that claims different stances.
As this has been happening, Israel has cut off access to water and power in Gaza, and countries such as Egypt have lined up to give Palestinians the humanitarian aid they so desperately need – but have been denied entry to Gaza. Finally, on October 21, 20 trucks from Egypt were allowed into Gaza, but it was not nearly enough for the Palestinian people. For context, around 450 trucks entered Gaza each day before October 7. On October 30, Israel agreed to let in 100 more trucks of aid – however, the actual aid has not gotten into Gaza yet, and people are beginning to become desperate. This has resulted in thousands of people breaking into United Nations (UN) warehouses to try and get food and supplies.
Countries worldwide are incredibly split on their stances regarding this conflict. Many, such as the United States, are saying that they believe Israel has the right to defend itself against Hamas and is, therefore, doing nothing wrong in their siege on Gaza. For example, President Biden stated that "it's a price of waging a war" concerning the deaths of innocent civilians. Additionally, Article 51 of the UN Charter says, in simple terms, that if a country attacks another country, that country has the right to fight back. However, this has been used to defend both sides. On one hand, some are saying that Hamas attacked first on October 7, and therefore, Israel has the right to strike back. Others say that Israel was the one who invaded and took over Palestine decades ago, and Hamas has finally chosen to fight back.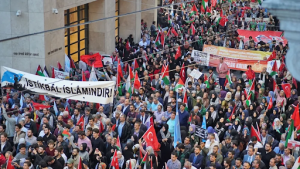 On the other hand, other countries have pointed out Israel's long history of discrimination and apartheid, stating that Hamas' attack, while wrong, was not unprovoked. Israel continues to say that its goal is to wipe out Hamas and that they are only defending themselves. However, the people in these countries – especially the ones with pro-Israel governments – have found themselves at the center of lots of backlash in the form of protests and boycotts. Millions of people have taken to the streets in protest in the USA, Great Britain, Turkey, and many other countries. One protestor, Shafa Gilani, a 12th grader, stated that she is "frustrated at the fact that [she] can't do anything to change the minds of pro-Israelis who are so blind to their stance. Their excuses to kill more and more Palestinians are so wrong and disgusting on so many levels." She went on to add, "And look at the propaganda! The hostages released by Hamas – the four of them – have stated that Hamas did not even mistreat them while they were captured. Yet the news reports that they said they suffered terribly. It is tough to know who to believe, but I do know that everything must be taken with a grain of salt." Additionally, people have begun to boycott Starbucks and McDonalds, along with other companies that support Israel, and the companies have desperately put out new deals to try and bring their sales back up.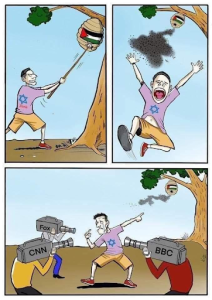 Palestinian journalists have taken to Instagram, TikTok, and other social media platforms to document what is happening in Gaza, showing real-time pictures of everything from the casualties to bombings to traumatized babies to their personal journal entries. They have shown parents holding their dead children's bodies, people's injuries from the white phosphorus released into Gaza (white phosphorus is considered illegal to release in civilian areas, but Israel has done just that), and the state of the buildings around them. Saumya Shanbhag stated, "These are just children. They are terrified. And Israel keeps bombing them, with no regard for human life. They say they target Hamas, but how come they seem only to be getting civilians? They have called them [Palestinians] human animals. They do not care who they kill. Look at the West Bank. There is no Hamas there, yet Palestinians suffer from discrimination and hatred from Israel daily. None of this is okay."
No one quite knows what will happen next in this situation, but one thing is sure: Something significant needs to happen, and something big needs to change, or we will soon be watching a genocide unfold before us.