On September 12, 2023, Unity Technologies announced an abrupt policy change regarding their pricing for the Unity Engine, a game development platform. Instead of the annual billing that had been used for years, they decided to bill creators for each download of their game.
Unity's new pricing policy charges fees based on game installations and Unity subscription type. The fee ranges from $0.01 to $0.20 per install, depending on the subscription. The price can cost large development studios more than $100,000 annually and stunt smaller indie developers' growth.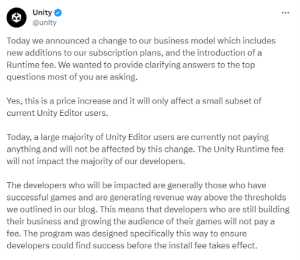 On September 17, 2023, the company posted an apology on Twitter and their blog: "We have heard you," the company wrote. "We apologize for the confusion and angst the runtime fee policy we announced on Tuesday caused." In the blog, they said that the runtime fee will no longer affect games built with a free subscription and games making less than $1 million per year.
Reactions to this post exploded as developers and gamers complained about the prices. Many developers who use Unity, such as those behind games like Among Us and Slay the Spire, have threatened to leave the platform, as the fee would cause substantial profit losses for more popular games. They felt like their games were being punished for being famous. Those who spent months and years learning C#, Unity's language, felt betrayed, as it would be challenging to learn a new language to switch to another platform. One person even called in a threat that caused the headquarters in San Francisco to evacuate. Five days after the change was announced, the company responded to the controversy and apologized, increasing the thresholds required for the fee.
Unity Technologies has broken all trust with its creators. Unity Engine is an easy-to-use tool used by small indie creators and large development studios. Imposing a new policy that would charge developers based on popularity was the worst decision made by the company.

"It wasn't a good change for the community, and many people are considering switching to other engines such as Unreal Engine," said Cornelius Sonnier (12). "It impacts indie studios the most because Unity is easy to learn. It's in C#, so having that blocked behind a large paywall prevents many people from using it." He further expands on this, saying, "It could lead to games that would typically be released free, being released with micro-transactions in them. There is a paywall behind them to cover that cost, which will affect the consumer."
"They've always been a free program for smaller developers, and it's helped small developers," says Katherine Egl (12). "We will probably see an increase in prices because they charge, even if it is small, like a dollar. It would still raise the prices, and we would see fewer free games." They bring up an interesting point on how this change would impact consumers and developers. The change in production costs would raise the game's price and make free games cost money. Many gamers who exclusively play free games will see a decrease in high-quality games.
"The super big companies will profit instead of the people just getting into the industry and making indie and small games. It is just a way to make more money for Unity," says Margaret McConnel (12).