College Football Mid-Season Report
There is no doubt that this college football season will go down as one of the most unique seasons ever. The COVID-19 pandemic almost canceled the season entirely, but the fans and players wanted the games to go on, so here we are. Despite the restrictions, such as limited fan attendance and no tailgating, the season has still been somewhat enjoyable. It's always fun seeing the usual top teams dominate college football, but the real fun of college football is what teams will emerge to challenge those top teams each year. Let's look at the top storylines of the 2020 college football season.
            
To win a national championship in college football, you must be one of the top 4 ranked teams in the country, and then you must beat two other teams in that top 4 as well. There are hundreds of college football teams, so this is no easy feat. However, there are three teams consistently in the top 4 each year, and those teams are Alabama, Clemson, and Ohio State–all dynasties in the college football world.
             
Led by Coach Nick Saban, the Alabama Crimson Tide are undefeated at 6-0 and are dominating their competition, as usual. They're averaging a whopping 47.2 points per game. Their offense is explosive, and even though they lost their star wide receiver, Jaylen Waddle, to injury in week 5 against Tennessee, their offense has shown no signs of slowing down as they still put up 41 points the very next week against Mississippi State. That's just what Alabama does, year in and year out.
            
The Clemson Tigers are coming off a season where their only loss came against the LSU Tigers in the national championship game (more on LSU later). That loss motivated them to get back to the championship and win it this time this year, and they're well on their way. They're the 4th ranked team in the country despite a loss to Notre Dame in their 8th game. They're not worried about the loss though because they were without their star quarterback Trevor Lawrence, who's arguably the best player in college football, and even with the loss, they're still a top 4 team who's going to go to the playoffs, as usual.
             
The last of the big three are the Ohio State Buckeyes. They are only three games into their season because the conference that they're in, the Big Ten, postponed their season back in early August, and they didn't play their first game until October 24th. The delayed start didn't hinder them, however, as they are currently undefeated at 3-0 and look like serious championship contenders.
             
Each year, college football fans are eager to see which surprise teams will emerge to challenge the big three teams. One of those teams is Notre Dame, the team that, as mentioned earlier, already beat Clemson once this season, and they may have to do it again in the ACC Championship. The other surprise team is the Florida Gators, who were ranked 8th in the pre-season rankings but, as of now, are the 6th ranked team in the country. Even though they have a loss on their schedule, they are still a competitive team who look like they'll be competing in the SEC championship. Their offense is reminiscent of the recent LSU national championship team that set records and had a historical season, so they're a team to keep an eye on.
The biggest surprise of the season has been just how bad the Louisiana State University Tigers, who are the reigning national champions, are playing. LSU had one of the greatest seasons ever last year. They went undefeated, they won a national championship and the SEC championship, they had multiple players and coaches win awards, and they set a plethora of records along the way. This year, however, they are at risk of becoming arguably the worst defending champions ever. LSU is known historically for their defense, but now they're having their worst defensive season ever. The main reason for their atrocious fall from glory is the massive loss of players from last year's team. Whether it be from the draft or players opting to not play the season due to COVID-19 concerns, over 15 players from last year's squad, and even though that may not seem like a lot, those player's were key players who played major rules in LSU's championship run with their leadership and elite skills. So now, this year, LSU is extremely young, and they lack the leadership and experience to dominate like they did last year. It doesn't help that the COVID-19 pandemic eliminated the spring training season for all college football teams, which is where teams usually get their early work in to prepare for the fall. This appears to have affected LSU the most as they're not looking like the competitive team that they have been in years past. It's not fun being an LSU fan right now (take it from me).
             
To sum up college football this year, the usual suspects are still on top of the college football world, i.e. Alabama, Clemson, and Ohio State. Those teams are dynasties, so they'll always be at the top, but it's always fun every year to see which teams can make a surprise run and have a chance at challenging these teams for championships. Those teams this year are Notre Dame and Florida. Other teams have done well too, but these teams are by far the clear-cut contenders to dethrone one of the big 3 from the top of the college football world.
About the Writer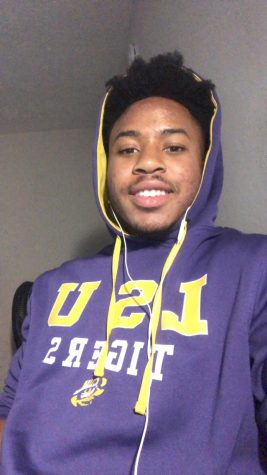 Michael Porter, Jr., Staff Writer
Michael Porter Jr. is a senior, and this is his first year in journalism. He enjoys playing sports, working out, playing video games, and watching anime....