Wheeler Swim and Dive Compete at State
Several athletes from the Wheeler Swim and Dive team, coached by Mr. Cameron Ward, have made it to state this season, despite facing restrictions from the Cobb County district regarding COVID-19 for the past two years. This being the obstacle most of the athletes faced, still being able to compete at state was the team's overall accomplishment, let alone with most of the athletes beating multiple school records. The state playoffs took place in the Georgia Tech Aquatic Center in downtown Atlanta.
Virginia Miller, a 12th grade Swim and Dive captain for the Wheeler girls team, recalled the coronavirus pandemic being the biggest obstacle for the longest time the team has overcome altogether.
"Covid has been messing with us for two years now because Cobb County set a limit on how many people can be in the pools this year." stated Miller, who joined the Swim and Dive team as a freshman, swam her entire life until now as a senior. "It kinda hurt our seasonal a little bit, but that's okay."
Ansley Young, an 11th grade swimmer who broke her own personal and school record competing at state, also thought covid was a major inconvenience for the team.
"Covid actually posed a lot of issues." said Young, who was pleased how this season went well this year. "It canceled a couple of our meets, made them smaller, lots of restrictions, just all that. But overall, it's been pretty good."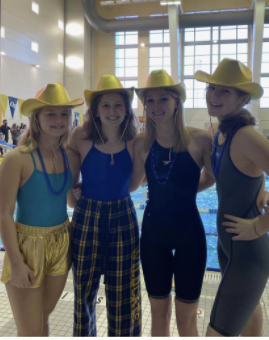 Even with the covid pandemic this year, the wonderful Wheeler Swim and Dive team had been on track to make it to state since day one of the season. Every meet they compete in, each athlete participates in their own events, which they add points to their overall score. Opposite of how the scoring in cross country works, in which the team with the lowest overall score wins, the school team with the highest score in the meet is ranked first.
The scoring process for swim and dive is simple: in diving, a dive is scored from 0-10, 0 being a failure and 10 being perfectly flawless. There are ½ increments from each score depending on the judge, of which there are five to seven of them to score each diver's approach, hurdle, height, distance, execution, and entry. They each focus on the precise details of every performance, noting every flaw if possible.
For swimming, the first five finishers in each race earn points for their team. First place earns 6, second place earns 4, third place earns 3, and so on. In relays, the first two teams that finish earn points for their team: first team earns 12 while the second team earns 8. Points are able to be compensated for if a swimmer were to improve their time from before, which they add one point to their score. There is a maximum number of points a team could earn, if each swimmer of that team were to perform exceptionally well.
Jaycee Hoffman, one of the 11th grade swimmers who made it onto the state team, was glad to swim her junior year.
"I joined the Wheeler Swim and Dive team because I had been swimming since I was 8." said Hoffman, looking forward to swimming again next year as a senior. "I swam the backstroke [in state playoffs]." She also vividly recalled the moment where two fires broke out during the meet, which the shock of that happening gave her the adrenaline rush to swim faster during her event.
Hoffman was also excited to see her teammates accomplish great things, like Mattie Fannin breaking her own school record twice in the 100m breaststroke, and the medley relay team breaking their own time of 1:50.23, which beat the school record as well.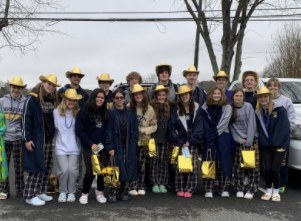 Overall, both Wheeler women's and men's teams did phenomenal during state playoffs. The women's team overall placed 10th, while the men's team placed 18th. Being able to compete against several other high school teams in the state has been the highlight of the team's season, while several athletes like Ansley Young are heading towards competing at finals. Best to the luck of these truly talented swimmers.