Britney Griner Detained in Russia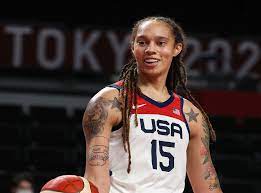 WNBA Superstar Britney Griner is famous for her accomplishments while being a member of the basketball team that goes by the name of Phoenix Mercury. She is 31 years old and is a six-time WNBA All-star, two-time WNBA defensive player of the years 2014 and 2015, and she has accomplished so much more. She is married to her wife of almost three years, Cherelle Griner. During the off-season, Britney Griner plays for a Russian team named UMMC Ekaterinburg to earn an income of over one million dollars per season. She has played for the team for the last seven years.
This year Griner was detained in Russia on February 17, 2022 for allegedly sneaking in vape cartridges that contained hashish oil. While her luggage was being checked by security at the Sheremetyevo International Airport, the vape cartridges were found inside. As a result, Griner's detention in Russia has been extended until May 19, 2022. The maximum penalty she is facing is a sentence of 10 years. Griner has not been proven guilty, but neither she nor her lawyer has claimed that she is innocent either. Even so, United States officials are making efforts to help bring her home.
However, it is challenging due to the war that is currently happening with Russia invading Ukraine. The United States had offered its support to Ukraine before Russia invaded; they have helped by providing nearly 1 billion dollars in military aid to Ukraine. Russia and the United States are not seeing eye to eye at the moment, leading people to believe that part of the reason Griner's case is so severe is because of these current problems.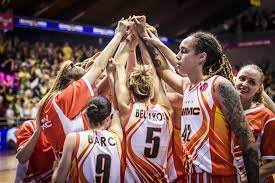 When asked in an interview, "Do you think that Russia is trying to use Britney Griner as some form of leverage against the United States?" Coach Chance answered "Maybe more like publicity and politics, so yeah." Some people think that the items inside of her bags were planted there because some say that Russia is known for doing sneaky activities similar to that. During an interview with Nana Pokou, when she was asked, "Do you think that she [Britney Griner] did it [tried to sneak illegal items through security] or do you think they [the illegal items] were planted?" she replied, "I believe they were planted." Most people say that there could be a possibility that this case is related to the current war between Russia and Ukraine and the conflict between Russia and the United States, but nobody is sure.
When people were asked if they thought a ten-year sentence was fair even if Griner is guilty, Coach Chance responded "No." Nana Pokou replied ,"No, I do not, I don't think that's fair." However, an administrator named Ms.Robson has said that "I think that is very extreme, like in our country that is very extreme, that wouldn't be happening, but, if that is their law and you should know, I guess when you're in another country what their law is and abide by their rules, I mean it is what it is. I think it's extreme, but if that's their rule, that's their rule."
Britney Griner has been detained for almost a month now, and it is possible that she could stay there as long as a year before her trial starts because that is what is expected in Russia. People will continue to help bring Britney Griner home, hopefully very soon, but nothing is certain. Griner has continued to have a bright and hopeful attitude toward the situation, and she will continue to keep pushing through these challenging times and return to playing basketball