NFL Season and Changes
NFL season coming fast raises questions about change and Tom Brady
Last Football season ended in shocking fashion. The Los Angeles Rams came back to beat the red-hot Joe Burrow and the Cincinnati Bengals, rewarding them with just their second Super Bowl title ever. Although fans are excited for the new season starting Thursday, September 8th, there are many concerns and questions with the changes from last season. As this is only the second season since the expansion, many question how that will affect play, as well as health. In April of 2021, owners finally agreed to expand the regular season from 16 games, to 17. They had been trying to make this change for over a decade, to have the potential for an international game, as well as the obvious, get more money. This expansion will allow new media deals in the NFL, raising the salary cap back up after it dropped due to pandemic-related revenue loss. This extra game and the risk of injury concerned many, but a study in 2021 revealed that most injuries occured in preseason games, and one extra game would not make much of a difference. Tino Davis (11) states, "This extra game for the NFL is useless. There is no need to add an extra game when there are already enough injuries." There are many different views on this, but with just one full 17-game season under the NFL's belt, it will be interesting to see how it goes this season.
One main question with this NFL season is Tom Brady. After coming up short of the Super Bowl title last year, there were many questions raised about what Tom Brady would do. He was getting old, and after the career he had, many believed he would retire. On January 29, 2022, reports that Tom Brady was retiring surfaced on the internet. The football community responded with tweets, messages, and memories, congratulating the GOAT on his career. Even his lifelong friend, Mike Evans, tweeted and said, "Thanks for everything big bro it was an honor @TomBrady." This tweet, along with many other tweets from football players, confirmed that he was retiring. Even ESPN posted his accomplishments, and a congratulations on an amazing career. But, within three hours later, Tom Brady's agent had said he had not made his decision about the upcoming season just yet. This sent the football community in a spiral of emotions, confirming he had not yet officially retired.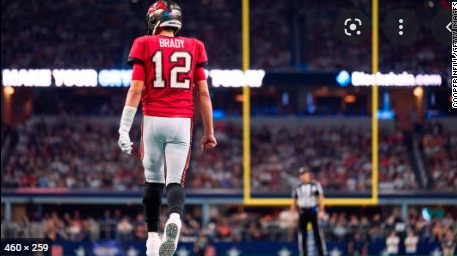 On March 13, 2022, Tom Brady made an official announcement on Twitter, revealing that he will be coming back and playing this season. Football fans were very joyful, excited to see the GOAT back in action. Recently, Tom Brady has taken some time off for personal issues, which sent the fans back into a spiral of emotions. When Tom Brady addressed the issue, the football community exploded with emotions and opinions about him. He looked much different from the last time we had seen Brady, both physically and emotionally. He addressed it saying he is a 40 year old guy, and he has personal issues just like the rest of the world. Whatever he is going through, we hope it gets better soon. Some believe these personal issues will motivate Brady to go out with a bang. Drew Marshall (12) says, "The Bucs will win the Super Bowl this year as Tom Brady will want to get one more Super Bowl under his resume before he retires." To add on to that, Gabe Bowman (12) also thinks the Bucs will win the Super Bowl this year. He said, "I wouldn't bet against Tom Brady in potentially his last year." With the strong belief that Brady will win the title this year, the football community will be interested to see how his health, both physically and mentally, holds up for him and his team.
As the season approaches, everyone hopes for few injuries, smooth weeks, and their teams to do well. The upcoming season will be one filled with thrill, excitement, and change that everyone is looking forward to.