Formula 1 driver Max Verstappen secured his third consecutive world championship during the 2023 season on Saturday, October 7. Formula 1, often abbreviated as F1, is a prestigious international motor racing series that traces its roots back to 1950 when it officially launched with the FIA World Championship. Its inaugural race took place at Silverstone, UK, and it has since evolved into a globally adored sport with millions of passionate fans worldwide.
A prodigious Dutch racing driver, Max Verstappen, competes for the Red Bull Formula 1 racing team. Born on September 30, 1997, in Hasselt, Belgium, Verstappen first entered the world of Formula 1 in 2015, becoming the youngest driver ever to start a Formula 1 race at only age 17. In the 2023 season, Max Verstappen clinched his third-world title while shattering a decade-old record for the most consecutive Grand Prix victories. During the Italian Grand Prix earlier this year, Verstappen printed his name in history as the first F1 driver to win ten successive Grand Prix races, beating Sebastian Vettel's record of 9 straight wins, which he had held for over a decade.
Verstappen's dominance in the 2023 season is undeniable, with an incredible victory tally of 14 of the 16 Grand Prix races. He won his first championship in 2021, ending Lewis Hamilton's four-year reign as the reigning champion. Remarkably, even with the 2023 title secured, five races remain on the 2023 F1 schedule, allowing Verstappen to beat his record for most points accumulated in a single Formula 1 season. Yet another astonishing record Max Verstappen shattered this season is the record for the most laps led in a single season, currently standing at 769 laps, with an additional 348 laps to go before the end of the 2023 season.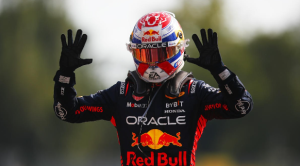 Second place on the leaderboard this season is Max's teammate, Sergio Pérez, a Mexican Formula 1 driver for Red Bull. Pérez currently has 224 points and sits 209 points behind Max. Pérez was born on January 26, 1990, in Guadalajara, Mexico. He started his motorsport career in karting and went to professional racing. Pérez made his Formula 1 debut in 2011 with the Sauber team. Pérez has competed for teams such as Sauber, McLaren, Force India, and Red Bull Racing. Pérez achieved his Formula 1 victory in the 2020 Sakhir Grand Prix. In 2021, Pérez joined the Red Bull Racing team as Max Verstappen's teammate. This team change allowed Pérez to compete for one of the top Formula 1 teams and fight for the World Drivers' Championship.
David Ekezie (11) stated, "Max's skill is just crazy. He's over 200 points ahead of any other driver. No one can even compete with him out on the track." Max Verstappen is 209 points ahead of his teammate, Sergio Pérez, who is currently 2nd place on this F1 season's leaderboard.
Andrew Kwarm (11) says, "If Max stays in F1 for the rest of his career, he will break every record there is to break and will go down in history as the undisputed greatest of all time." Max Verstappen has shown his outstanding skill in racing and has tremendous potential to set new F1 records and attain several more world titles.
Christopher Charles (11) claimed, "Lewis Hamilton may have more wins, but Max is on track to take his throne and beat his records." Lewis Hamilton currently has 7 F1 world titles, while Max has just been able to clinch his 3rd world title this year.