In a thrilling final against England on August 20, 2023, the Spanish Women's Soccer team won the World Cup for the first time in history. Despite the celebrations, the processes that followed their hard-earned victory were long and controversial. As the women lifted the trophy, Luis Rubiales, the now former president of the Royal Spanish Football Federation, kissed Jenni Hermoso, number 10 on the Spanish Women's team, on the lips.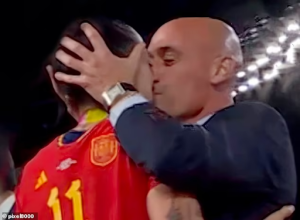 Although Hermoso did not react negatively at the moment, which might have been from shock, she had not consented to the kiss. Later, she spoke out about feeling uncomfortable with what Rubiales had done, saying, "I didn't like it, but what can I do?" On the other hand, Rubiales insisted that it had been consensual and that he had done nothing wrong. 10th grader Kassidy Sweeney, one of the Wheeler HS Girls Soccer players, stated that she thought "It was crazy that he didn't think he did anything wrong. He assaulted her." Succeeding the incident, Hermoso and her teammates began calling for some action to be taken against Rubiales. As a result, professional soccer players – primarily women from around the world, also began calling for Rubiales' resignation. In response, Rubiales apologized for his actions but said he would continue to work at his job.
Twenty-three Spanish women's team players declared they would not play any more games until Rubiales was removed and more considerable systemic changes were made. Still, by the time their next game (against Sweden) came around, almost all players had been called up to play and agreed to do so. This is partly because of their contract, which states that they must play in all the games they are told to play in, or they could risk losing their licenses to play internationally. After this call-up, Jenni Hermoso posted a statement expressing her anger at the Spanish Football Federations' (RFEF) disregard for her teammates' decisions and their strike (Hermoso was not called up). It has also been reported that the players and the players' unions have reached agreements regarding fair pay and equal treatment, contributing to the women agreeing to play in their post-World Cup matches. Olivia Herrick, another Wheeler HS Girls Soccer Team player, said, "I think it's good that they're taking these steps towards equality in women's soccer. There's still a long way to go, but it's a decent start."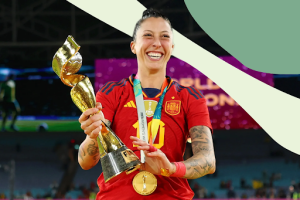 FIFA suspended Rubiales on August 26; on September 6, Hermoso filed a legal complaint against him through prosecutors. FIFA's suspension of Rubiales was supposed to last 90 days as they investigated the matter. As this happened, news headlines began reporting on Rubiales' mother, who allegedly locked herself in a church and started a hunger strike to protest her son's treatment – an odd, controversial move. Saumya Shanbhag, a 12th grader at Wheeler HS, laughed at this, "His mother sounds crazy. Her son did something wrong, and now he's being punished for it, and she's upset? She should have taught him better." However, on September 10, Rubiales eventually resigned as the calls to do so became too much for him to handle alongside the investigation and suspension.
Hermoso has been called up to play for Spain for the first time since the World Cup. She has been asked to play in matches against Italy (October 27) and Switzerland (October 31). This comes as prosecutors continue to gather evidence from witnesses about the charges of sexual assault and coercion that have been set against him. Hermoso's testimony regarding whether or not Rubiales' unwanted kiss was a crime of sexual violence was also leaked and then broadcast on national Spanish television. This video shows her saying, "I do not deserve to have lived through all this. It has been tough to be able to leave home. I had to leave Madrid not to have that pressure. Why do I have to cry in a room when I haven't done anything?" She has also stated that she feels that the RFEF has left her feeling "unprotected," saying, "They tarnished my image; I felt that no one was protecting me. They were asking me to protect them, to help them, but at no time did I feel that anyone was protecting me."
As this controversy continues to rise amid legal battles, there are also issues regarding the manager of the women's soccer team and the overall mood and thoughts of the Spanish players. Overall, this issue is still complicated and ongoing, without any conclusion for now.