Fluff Piece Signings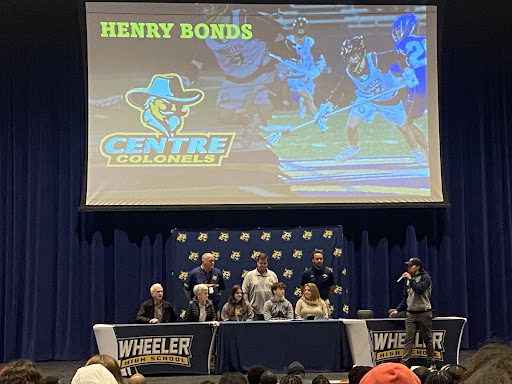 Last Friday, February 3rd, Wheeler High School hosted a Wheeler Signing Day where Henry Bonds (12), Ansley Young (12), and a few others signed an athletic scholarship at the collegiate level. Ewuraba Buckle (12) was present at the Signing Day and described it as "exciting to see these students' futures."These students have spent their high school career balancing their academics with a sport they were passionate about, and they have trained and built up their skills to a point where colleges have reached out to these students to recruit them.
Henry Bonds (12) is a senior at Wheeler High School who plays lacrosse as a long-stick midfielder. He chose this sport due to the aggression and physicality it requires, and he is choosing to continue his lacrosse career at Centre College. Henry (12) chose this school because he claimed he "really connected with the guys and likes the campus." The main thing he will miss from being on the high school team is the camaraderie among his teammates, and he hopes to find a similar connection at Centre College.
Another student who signed was Ansley Young (12), a senior at Wheeler High School. She is a swimmer that prefers butterfly sprints. Ansley (12) began swimming from a young age since her best friend also swam. She fell in love with the sport and has floated for the last ten years. As she advances into her collegiate career, Ansley (12) has signed up with Converse University with a major in biology. She chose this school because she wanted "a small school that wasn't completely centered around swimming and had a good balance between academics and swimming." Ansley looks forward to "living on her own," but she will miss how comfortable her high school swim team was.